3 Best Pizza Stones for 2020 Reviewed
I believe pizza is the epitome of the perfect snack – a combination of a crispy crust and mouthwatering cheese just makes it the right bite whenever you need a quick snack or meal. That is also why making great pizzas is a MUST-DO for me. 
Most folks assume that once they load up the dough with cheese, ham, and some succulent tomato sauce, they have got great pizza. 
No! Doesn't work that way… 
Well, that's what I believe after years of making some of the best pizzas my family has ever eaten (my daughter believes hers' is the best though – but I taught her). If you have never tasted pizza baked on a pizza stone, you are missing out on a treat. The best pizza stones ensure you bake Michelin 3-star restaurant quality pizza without having to leave the house.
Here, I'm going to give my top picks for pizza stones and let you in on the secret to choosing the right one. That way, your family never has to be deprived of a perfectly crisp crust ever again.
1. Blumtal Pizza Stone Set
Pros
– Peel board with an extra-long handle makes it easy to slot it into or remove from the oven

– Stone is made out of cordierite, a highly porous, moisture-absorbing stone

– Can be used in the oven or grill
Cons
– Peel is too large if you have a small kitchen

– Color fades when cleaned
The Blumtal pizza stone set will change the way you bake, in a good way. It produces a crisp base whilst leaving the topping cooked hot and not burnt. The combination of the peel board and its detachable 41.5 cm wooden handle guarantees you an enjoyable and easy baking spree once the stone set arrives at your doorstep.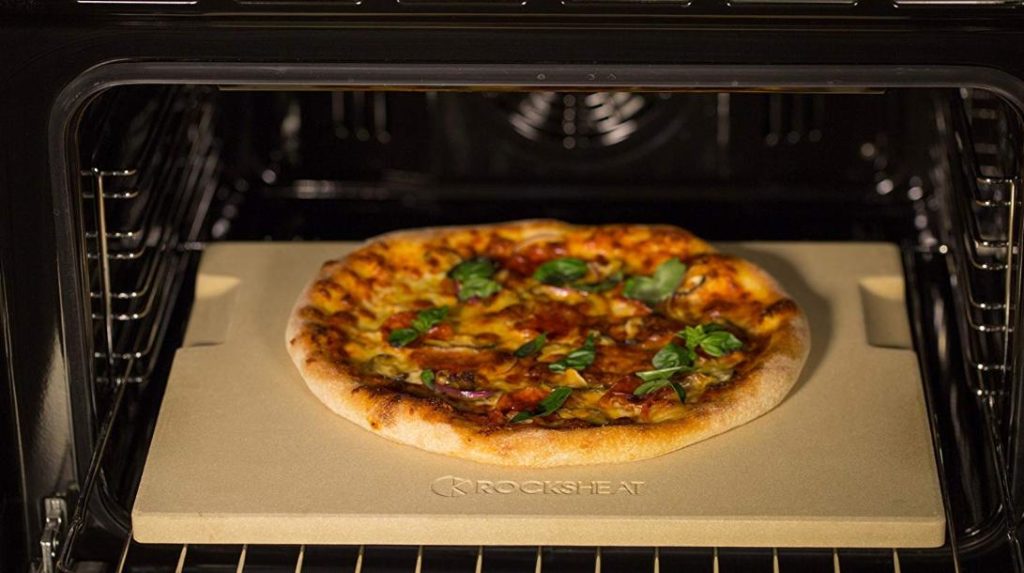 2. ROCKSHEAT Pizza Stone
Pros
– Resistant to high temperatures

– Designed for convenience with its double-faced built-in handles

– FDA certified
Cons
– Heavy – weighs 3.22 kg

– Stains a bit too easily
With its ability to bake pizzeria-quality pizza, the ROCKSHEAT pizza stone is a great pizza stone for ovens. It boasts high thermal stability and handles that are built-in and designed for convenience.
3. VonShef Pizza Stone Review
Pros
– Stone is made of ceramic – means it heats evenly and stays warmer longer than most stones.

– Easy-grip handles reduce the likelihood of your pizza tumbling to the floor. From experience, I can assure you don't want this to happen to your nice, crisp pizza

– Great affordable price
Cons
– Stone needs to be pre-heated for a long time to get a decent crispy base

– Difficult to clean
The VonShef pizza stone is the best stone for the price. It's also quite versatile. It is not only great at baking pizza but does a great job if you also love to bake cookies, bread, rolls, and other baked goods.
Everything You Need to Know Before Buying a Pizza Stone
If you are looking for a modern alternative to a brick oven, then pizza stones are your best bet. They can replicate the sumptuous baking quality you can get with a brick oven, but they don't require an entire patio renovation to do so. A well-made stone can be the difference between a soggy mess of a pizza and a mouthwatering bite of cheese and ham with a crispy browned crust. 
I'm going to give you my pointers for buying the best pizza stone in the UK. But let's start with defining what a pizza stone is.
What Is a Pizza Stone?

A pizza stone is simply a baking stone designed to cook pizzas. These stones come in various shapes and sizes - all dependent on your personal preferences. I usually prefer the square-shaped boards. A pizza stone is an incredibly basic but effective baking tool. 

To use the stone, simply place it on the middle rack or bottom of your oven. Depending on the thickness of your stone, be prepared to heat it between 30 minutes to an hour. These stones are usually stable thermally and can handle temperatures as high as 800°C.

 When properly heated, the stone transfers the heat directly to your pizza dough for consistent and fast baking. This baking method also works for other pastries, especially bread and biscuits.

Things to Consider When Buying a Pizza Stone

 The following factors should be key considerations before picking a particular pizza stone. 

Thickness

 

Your choice of an oven pizza stone should be thick enough to maintain the right amount of heat and distribute it equally over its entire surface area. The thickness also plays a role in its durability and thermal stability. Thinner stones can crack as the temperature increases. 

Thick stones can be quite heavy and hard to adjust when in the oven. But they are worth every penny and stress. The thicker the stone, the better the pizza. One thing to note is that you will need to buy a stone that works for your weight and heat requirements. 

Versatility

 

This is not a nice-to-have feature. All pizza stones are versatile to a certain extent. However, you want to buy a stone that can be used to cook other meals besides pizza. The options with the best value also will come with extras such as a cutter or a peel. You can even use them to serve cold foods. 

Be sure to check for all the extras as they make the stone worth the while. 

Size and Shape

 

The desirable size and shape of your pizza stone are dependent on your personal preferences. If you usually bake for a large family, you might consider large square shaped stones. However, most standard pizza stones are circular. These circular stones can easily fit into your oven. 

Be sure you know the exact size of your oven or grill before purchasing a large stone with a unique shape. 

Material

 

Depending on how you like your pizza prepared or prefer to bake, there are a variety of materials that generate different temperatures of heat. You also need to think about if you will be using majorly the oven, grill or barbecue to bake. 

For example, clay stones produce a soft crunchy crust all the time. When deciding on your options, these should be top of mind for you.

How to Use a Pizza Stone

Proper usage of your pizza stone is almost as important as purchasing one. Most pizza stones come with a user guide, and these manuals can help keep your stone around for a long time. 

When preheating your stone, always ensure you do that for 30 minutes to an hour, depending on the thickness of the stone. You should never rush the pre-heating process. The temperature of your oven is not an indicator that your stone has been properly heated. 

It's also important to clean your stone regularly with oil, especially if it's an unglazed natural stone. Rubbing oil on the surface prevents dough-based pastries from sticking to your stone. 

Lastly, never put your stone in a hot oven - put the stone in first, then turn on the oven. If you put it in after the oven pre-heats, the drastic increase in temperature can crack your stone due to thermal shock.

The Bottomline

If you are looking to level up your pizza making chops within the comfort of your own kitchen, a pizza stone is the instant X-factor you need. It is an effective tool for heating your frozen ready-made pizza to crispy golden sunny perfection. 

Pizza making from scratch is a great activity for family bonding time. I will say having a stone significantly reduces the time for baking. It gives me and my loved ones more time for eating and having fun. 

However, a pizza stone is not all fun and games. You need to use it properly, while also maintaining it to prevent damage or thermal shock. Using your stone properly means you get the best out of it, for the longest period possible. In conclusion, buying one of the pizza stones I reviewed here is sure to take your homemade pizza baking to a whole new level.