5 Best Wood Fired Pizza Ovens for 2020 Reviewed
If you think that recreating restaurant quality, wood fired pizza at home is far from possible, think again! 
Nowadays, we have access to so many different cooking tools, gadgets, and accessories. Among them, the right equipment to make Italian style homemade pizza all in the comfort of our homes.
How? By using the freshest of ingredients, mastering the art of dough making, and most importantly, investing in the right wood fired pizza oven.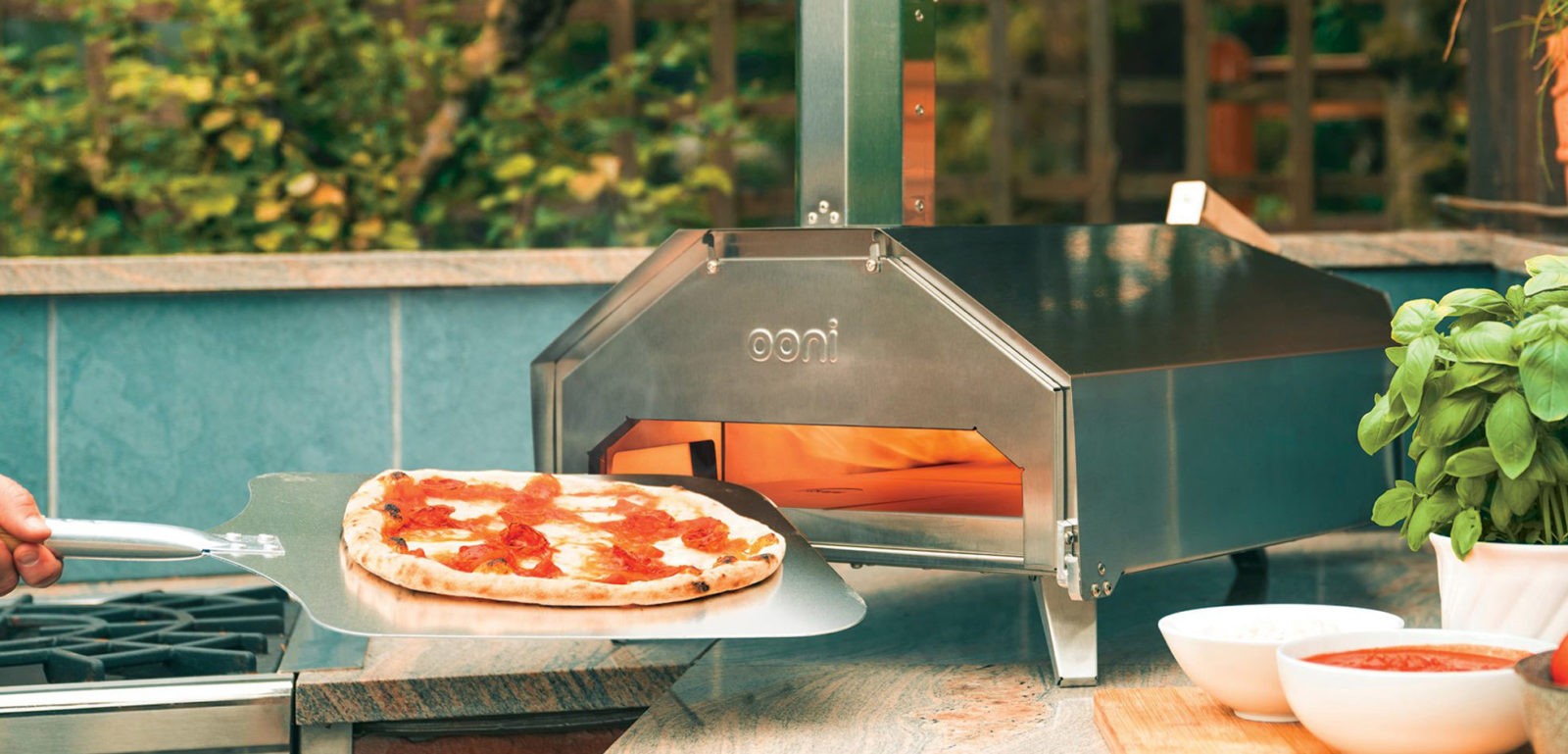 The Best Wood Burning Pizza Ovens
The beauty of wood burning pizza ovens is anyone can learn how to use them. Whether you're a beginner or professional chef, I've reviewed everything from entry level units to some commercial models. 
In this buyer's guide, I'll save you the trouble of purchasing a subpar pizza oven that's not going to deliver that unique smokey taste we've all come to love. I've tried and tested many different models in my time. The five models reviewed down below continue to be my all-time favourite!  
Is there one that catches your eye? 
Read the detailed review and be sure to stick around for the Buyer's Guide at the end of this article. Everything you need to know about these appliances is right here! 
20% Black Friday Discount on All Ooni Products!
There has never been a better time to buy an Ooni pizza oven! Simply click the 'check prices' button below to save 20%!
Why Choose A Wood Burning Pizza Oven?
Why purchase a wood fired pizza oven over their gas counterpart? Here are 3 reasons: 
1. Better Flavours
Wood burning ovens draw heat from a real fire of burning wood. Wood creates a moist baking environment that you won't receive from a gas oven. The moisture released into the bake chamber as the wood burns also contributes to the pizza's flavour. This leads to an authentic smokey taste that you can't achieve with a gas oven. 
2. Quicker Cooking Times 
Did you know that heating an oven with wood is much quicker than using gas? 
As the wood burns, you're accumulating a coal bed on the oven floor. These hot coals drive heat into the floor at the very same time it's heating the overhead dome. With gas ovens, heat is being limited to the flame only. Therefore, heating time takes much longer when using a traditional electric or gas-powered oven.
3. Wide Variety of Styles 
Now, let's get down to looks. Out of all the ovens I've owned, wood fired are my favourite when it comes down to appearance. Not only do they make food taste great, but they add stunning visual features to your garden or patio. Whatever your taste, you'll have options that range from traditional rustic looks to more modern minimalistic designs. 
Things to Consider When Buying a Wood Fired Pizza Oven
Heating Time

Like your regular home oven, you need to preheat it before placing a pizza inside it. Several factors affect heat up times, like the dryness of the wood. I recommend using seasoned or kiln-dried wood for wood burning pizza ovens. 

If your oven has become damp inside for any reason, dry it completely before attempting the lighting procedure. This will lead to a much faster heating time.  

Another factor is the internal and external temperature. For example, if it's below 0℃, it will take longer for a pizza oven to heat up. Although, I have yet to meet anyone motivated enough to use their outdoor oven in the middle of winter!  

Size and Capacity

How big of an oven you need depends on two things:

 -How many pizzas do you want to cook at one time?
 -Where do you plan to store this appliance?
 

If you often host large gatherings, you may be thinking that you need a pizza oven with a large, generous capacity. However, wood burning pizza ovens give you the luxury of fast cooking times. Some models are so quick that they cook pizzas in as little as 60 seconds! Provided you've prepared all of the pizzas beforehand. You'll easily be able to cater to all of your guests. 

Now, where do you plan on storing your pizza oven? If you are tight on space, a large model may not be the best choice. Because these are outdoor ovens, I recommend investing in an oven cover to protect it from the weather. 

Heat Preservation

A well-insulated oven means better efficiency and more effective cooking. When an oven isn't very well insulated, temperatures can drop rapidly. You can go from 400°C to 140°C which although is still useable, it's certainly not as efficient. An oven that retains heat consistently results is crispier, thoroughly cooked pizzas. 
How to Use a Wood Fired Pizza Oven
When you have a quality pizza oven, using it is simple. Always, always, always read the user manual before beginning. Even if you already know half of the information within it, it serves as a good refresher course. Each oven is a bit different so learn how to make the most out of every use. 
The first step is heating up your oven. During this phase, the oven door will remain open, and the chimney also (if your oven has a chimney). You'll need to build a fire in the center of the oven floor. To do so, use several sticks and let them burn. Once the fire has died out, you can either sweep out the embers or push them aside. Close the door and let the oven rest for several minutes. This will allow the heat to become even across it and the fire temperature to drop.
The primary heat will be around 400°C, which is great if you want to make quick and crispy pizzas with a thin base. Once it reaches these temperatures, your pizzas are ready to be placed inside! 
Conclusion
A true rustic way of cooking and one that has been tried and tested throughout the generations of time, wood fired cooking really does deliver a superior cooking taste and experience. This is why more and more homes and restaurants across the UK choose to install wood fired ovens within their kitchens.
You can check out my other tips and tricks here.