4 Best BBQ Pizza Ovens for 2020 Reviewed
The great thing about food is most everyone enjoys it. It's great for the social aspects of life, whether that's with family, friends or co-workers. Food brings people together. Done right, food can taste great and make us feel good, too. 
However, the act of cooking and eating can become a bit repetitive and boring. Especially on the average eating-at-home days, when you're trying to think of ideas for all the family to enjoy. A BBQ pizza oven can give a refreshingly new and interesting way to cook your food at home. Not just for the family but dinner parties and casual gatherings with friends.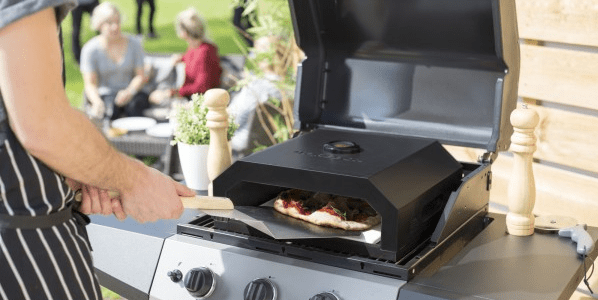 BBQ pizza ovens are also versatile, which means they're excellent for taking on camping or motor home holidays or for those weekends away in the country. With these moments in mind, I've made a list of some of my favourite pizza ovens for BBQ out there. 
From best priced, to pizza oven kits, there something for everyone with the humble BBQ pizza oven.
We have reviewed the following BBQ pizza ovens, covering enthusiast-level models intended for lighter use, to the most advanced commercial units available:
What Is a BBQ Pizza Oven?
A barbecue pizza oven is a piece of equipment that can be added and removed, from your domestic barbecue. They tend to be around the measurements of 30 x 35 x 15, around the size of a rucksack. They are usually lightweight and easy to move around. For the days you want some spontaneous outdoor cooking, or perhaps pack your kit away if the weather turns on you, a pizza oven for BBQ is a convenient choice! 
The oven is generally placed on top of the barbecue, once it's lit, and then left to heat up. These devices tend to be sturdy and will fit comfortably on top of your barbecue. They tend to take around 10 minutes to heat up properly. The materials they are often made of are designed to insulate heat effectively, whilst circulating air appropriately. 
This, then, acts as a mini pizza oven. Most of us have seen the huge pizza ovens in restaurants, or the large stone baking apparatus. However, most of us also don't have the money, space, or resources to get one ourselves. So this nifty little thing works just perfectly in this respect as well as still being able to produce wholesome homemade pizzas. Of course, most importantly, these ovens deliver without compromising on taste.
Why Choose a BBQ Pizza Oven?

As previously mentioned, BBQ pizza ovens work as a pizza oven but on a more domestic scale. They are affordable for the general public and not a pain to bring into your home. Large-scale pizza ovens require someone to build them and for you to find the space to put it. As well, the commercial-sized ovens require a substantial amount of fuel to keep it hot and cooking. 

Pizza ovens are excellent for garden barbecues, for something a bit different to keep all your guests pleased. They have a nifty design and purpose. They don't require lengthy preparation or elaborate ingredients, and they work well for the fancy do's right down to the casual weekday family meals. 

I've found it can be tiresome thinking of new meal ideas for myself and the kids, and I'm sure you'll agree. Pizza ovens ensure you can create a dinner that is not only organic and homemade, but something everyone will enjoy.

 These ovens are not just for pizza, either. 

As you may have noticed in some of my reviews, a lot of these ovens are ideal for cooking other foods too. Meat, fish, vegetables, even cookies and marshmallows are great for this oven! (Not quite dinner time material, I know.) There is a variety of foods you can cook with this equipment, and there are just as many reasons to embrace this style of cooking, which can be a healthy option and add that wonderfully different smokey BBQ flavour.

Things to Consider When Buying a BBQ Pizza Oven

I want to make sure you get the best possible experience of the appliance. Like all products, there are certain features to look for and consider when looking to buy one of these BBQ add-ons. 

Material – Most are made from steel or stainless steel. This material is a great heat conductor and proves to achieve an even cook or bake with your food.
Do you have the correct apparatus to go with it?

- The top main I'm referring to is a BBQ, which is essential for your BBQ pizza oven (would you believe?). These won't work with disposable barbecues. Most of us have a charcoal, gas or masonry barbecue lying around somewhere in the shed or garage. If you don't, it's worth the investment.

What oven best suits you and your lifestyle? - If you are going to be cooking for a lot of people regularly, it may be worth investing in one of the larger ones or ones that cook quickly -which most do. Maybe you want one with extra tools, like the pizza paddle, especially if your kids are giving you a helping hand.
Thermometer

– It's quite essential that you can get your equipment with a built-in thermometer. This will help you monitor temperature and time your cooking accordingly.

Price range – Most of these pizza BBQ ovens start from around £55 and go up to £140 or so. Any more or any less, it may be worth looking into to make sure you're not over or underspending. Quality for your money is important.

How to Use a BBQ Pizza Oven?

Using them is pretty simple. First of all, it's best to make sure you've got the barbecue going. Then get your exciting new piece of kit and pop on top of your barbecue. It doesn't matter too much if the flames haven't quite died down yet—just watch your fingers! I recommend using oven gloves when handling your oven. 

Place your appliance on top, or in between if you're going for a model a bit like the KettlePizza, and wait for it to heat up for around ten minutes. This is when your thermometer comes in handy. Then pop your home-made doughy masterpiece into the oven. If you have bought a piece with a stone base, ensure that's where it needs to be (placed in the base of the oven) as soon as you put it on top of the barbecue.