3 Best Fire Bricks for 2020 Reviewed
Fire bricks come in different shapes and sizes. They are used to line stoves, furnaces, and fireplaces. In fact, fire bricks for pizza oven take cooking to a whole other level! There is a clear difference between brick oven pizza and pizza made in a regular oven. With one bite, you'll discover a smokey flavour that's impossible to achieve with a normal stove. 
The main difference between fire bricks and regular ones is that they can handle extremely high temperatures. They're designed to line the inside of stoves, furnaces, or fireplaces within both home and industrial settings. While you don't need to use fire bricks for a pizza oven, they are highly recommended by professional chefs and consumers alike. 
In this guide, we'll cover the top 3 fire bricks UK for 2020 as well as some other important information to know.

1. VITCAS Fire Bricks
Pros
– Affordable 

– Withstands temperatures up to 1300°C

– Great for both indoor and outdoor use
VITCAS has sold quality refractory products since 1882. They offer their products global wide and are a leader in high-temperature insulation materials like firebricks. This manufacturer sells both decorative and refractory fire bricks – in different shapes and sizes.
2. Vermiculite Fire Brick
Pros
– Lightweight 

– Amazing insulation 

– Can be recycled into garden soil
Cons
– More fragile than other firebricks
Vermiculite fire bricks are great for cooking authentic, savoury meals. They are used for insulation purposes and allow your stove to burn efficiently. They also work as a heat barrier to protect the walls of your steel stove. Better yet, you can cut them into any shape and size to fit your stove.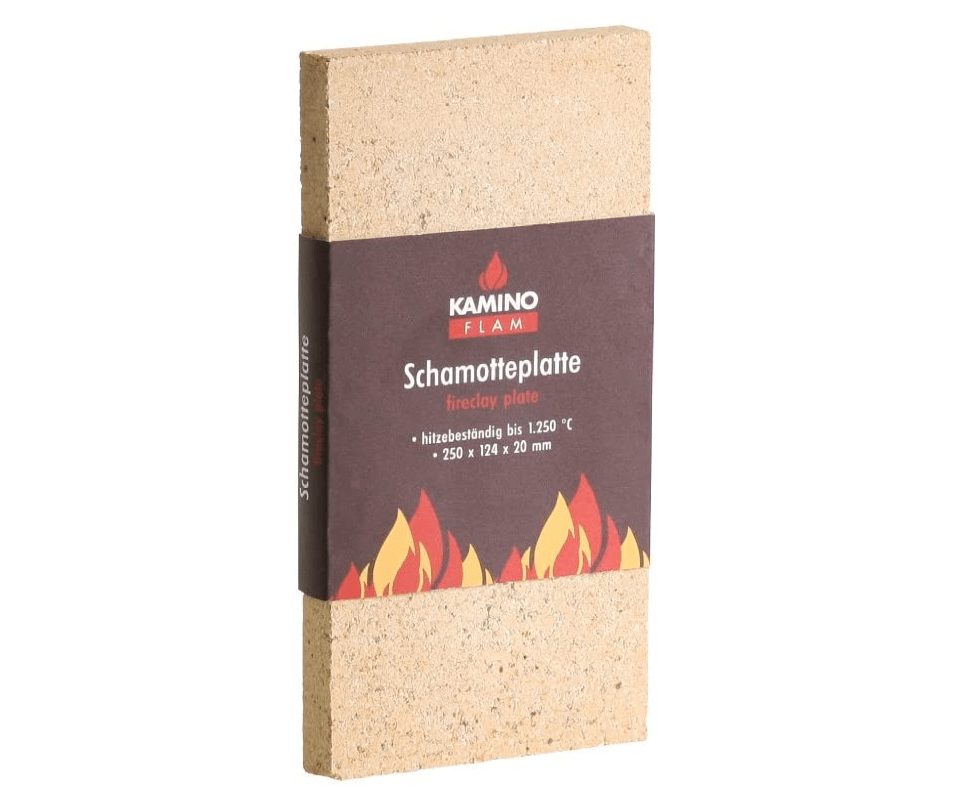 3. Kamino-Flam Fire Bricks
Pros
– Odourless and  irritant-free 

– Heat resistant up to 1250°C 

– Long-lasting and strong
Kamino Flam is well known for delivering safe and easy to use products. One of my favourite products offered by them is the Kamino-Flam Chamotte Bricks. These materials are used to build beautiful stoves, fireplaces, chimneys, or pizza ovens. Not only do they look good, but they are efficient as well.
What Are Fire Bricks?

Firebricks – also known as refractory bricks – are used to line the insides of furnaces and kilns. These ceramic bricks are constructed with refractory materials that withstand high temperatures. Their low thermal conductivity is excellent for forging and fireplaces because it offers greater energy efficiency. 

Why You Should Use Fire Bricks 

There are many reasons you want to use firebricks. For starters, unlike refractory cement and traditional bricks, firebrick withstands insanely high temperatures. They are made from refractory ceramic materials, making them different from bricks used for things like lining your driveway or sidewalk. They can handle temperatures up to 982°C. 

They will also protect the steel sides of your stove. They retain heat so that it stays within the firebox instead of slipping outside the sides of the oven. You'll also enjoy the following benefits: 

- They retain heat better and release it slowly. This means your pizza, bread, and pastries are less likely to burn. 

- Firebricks reflect more light into the oven, which helps while cooking. 

- They are a more traditional option, especially for pizza ovens. Very rarely will you find a brick oven pizza enthusiast suggest using anything other than fire bricks to line the inside of the oven! 

- Firebricks don't include any toxic additives. 

If you're like me, you're looking for the best fire bricks for your pizza oven. The reviewed selections offer quality, versatility, and efficiency! Not to mention they are all long-lasting, budget-friendly options.

Things to Consider When Buying Fire Bricks

Before you buy the first set of wood stove fire bricks you come across, take some time to learn more about the differences in this material. 

Hard and Soft 

Fire bricks are either hard or soft. Hard bricks are dense, durable, and well known for their structural qualities. Yoúll often sees them used as the main building components of chimneys, fireboxes, large kilns, or burner ports. 

On the other hand, soft bricks are lightweight and made from refractory materials that contain combustible materials. When fired, these types of bricks provide insulating qualities. They are often used as insulating liners that withstand heats from 1093°C to 1816°C. 

Grades 

Fire bricks are made from fire clay. This is the main ingredient and contains silica and alumina, which are both elements capable of withstanding very high temperatures. You'll find that hard bricks are available in many different grades, such as: 

- Low-duty:

This grade is mainly used for fireplace chimneys and can withstand temperatures up to 955ºC (1750ºF). They contain 24-26% alumina. 

- Medium-duty:

This grade is used to line low-temperature ceramic kilns and chimneys and contain 34-38% alumina. They withstand temperatures up to 1482ºC (2700ºF). 

- High-duty:

This grade is used within boilers, backup linings, chimneys, and ceramic kilns. They can handle temperatures up to 1566ºC (2850ºF) and contain 36-40% alumina. 

 

Shapes

 

Common shapes for fire bricks are straights, soaps, splits, archs, or wedges. The standard refractory size of a brick is 9 x 4.5 x 2.5 inches. Here are some key difference between shapes and sizes: 

- Straights

- The standard size for straight bricks is 9 x 4.5 x 2.5 inches or 9 x 4.5 x 3 inches with sizes available up to 18 inches long, 4.5 inches thick, and 9 inches wide. 

- Soaps

- This term is used to describe a half brick in width like 9 x 2 1/4 x 2.5 inches or 9 x 2 1/4 x 3 inches. 

- Splits

- These types of fire bricks come in sizes of 1, 1 1/4, 1.5, and 2-inch thickness. 

- Arch

- These types are used to make circular arched roofs either 4.5 or 6 inches in thickness. 

- Wedge

- This brick shape varies in thickness as well as the entire length of the brick. It's used to make circular barrel arches of 9, 12, 13 inches in thickness.

The size and shape that you need depends on your intended use. Insulating firebricks can be easily cut with a saw while hard bricks require a special piece of equipment. 

What are the Best Fire Bricks For Pizza Ovens? 

If you're specifically looking for fire bricks for your pizza oven, you want to steer clear from concrete options. You need bricks made of clay that are kiln fired. Clay bricks can withstand the heat produced in pizza ovens, whereas concrete bricks can't. 

Pizza ovens can reach temperatures up to 500ºC, which is a walk in the park for fire bricks! Even low-duty ones can withstand temperatures of 955ºC. If you want to achieve tasty Italian style dishes, consider investing in fire bricks for their heat retention qualities. This also means you'll end up using less wood long term. 

Conclusion 

There isn't anything better than a fresh, crispy homemade pizza made in a wood-fired pizza oven. Fire bricks are capable of heating a large oven using a relatively small fire. They hold heat for a very long time, making this type of cooking economical. You can't go wrong with fire bricks for pizza ovens! Be sure to check out our top 3 selections.