5 Best Commercial Pizza Ovens for 2020 Reviewed
A big part of what separates a good pizza from a truly GREAT pizza is the oven in which you bake it. I like to think I know a thing or two about pizza, and I can say from experience that a good oven makes for that mouth-watering pizza meal you crave.  
Choosing the right commercial oven for your restaurant will help you stand out from the rest of the crowd and offer mind-blowing 'za. Pizza ovens are superior to traditional ovens, and the difference shows in the flavour. From the stone decks to the capacity for high temperatures, these appliances are the only way you can start cranking out the best pizzas in town. 
Now, don't just go diving in to find the top-rated oven and buy it. Just as pizzas are all different, pizza ovens all have their strengths and weaknesses. Keep reading, and I'll share my top favourite commercial pizza ovens and a guide to choosing the best one.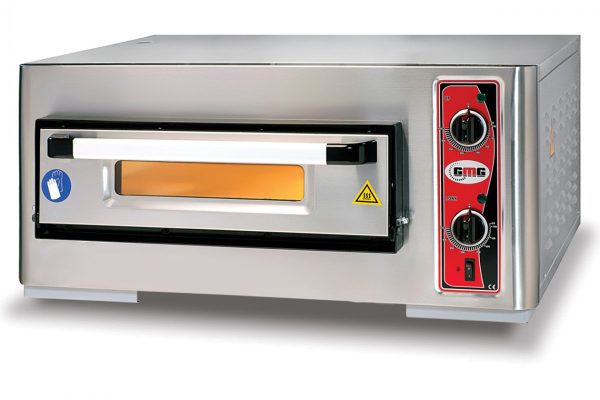 This guide will cover everything from the best price oven, as well as the commercial oven that's easiest to use. Then, we can dive into all the questions you should ask yourself about your pizza oven needs before you purchase.
The Best Commercial Pizza Ovens
What is an Commercial Pizza Oven?
The category of commercial pizza ovens encompasses several sub-categories. These include deck ovens, wood-fired ovens, conveyor ovens, and convection ovens. 
Pizza ovens are quite different from standard commercial ovens. Conventional ovens do not usually have a construction explicitly made to handle pizzas, calzones, and garlic bread, not in the way pizza ovens can. Pizza ovens consist of different types of stones that can heat up to much higher temperatures at a faster rate. For you, that means faster cooking times and consistent temperatures to bake the cheese, toppings, and crust to perfection. 
Besides the material, the size also matters. Commercial appliances are much larger than personal pizza ovens for home use. Commercial pizza ovens consistently excellent pizzas at a rate fast enough to keep up with the demand! It makes the difference between being just a pizza place and an authentic pizzeria.
Why Choose a Commercial Pizza Oven?

While you can certainly make a tasty pizza in a regular commercial oven, it just won't produce the same level of quality as a commercial pizza oven. The main benefits of choosing a commercial pizza oven include: 

- Powerful flavor. Perfect Crust. Great to cook all kinds of food!
- Ambience. A brick oven or large conveyor oven tell the dining guests how seriously you take your craft.
- Efficiency. With a standard oven, you have limited space. It will take much longer to get orders out this way. With a special commercial pizza oven, you'll be able to get them out to guests faster!

Things to Consider when Buying a Commercial Pizza Oven?

Before you pick what you believe to be the commercial pizza oven of your dreams, there are a few considerations that can help you out in the long run. Before buying, I recommend you ask yourself these questions: 

- How much pizza do I need to produce? 

If you're planning to have high production, consider a conveyor oven! They keep things going as fast as possible for high-volume cooking. If you expect medium levels of production, you might enjoy a deck or a brick oven. Alternately, if you will have low volume, your best bet might be a commercial pizza convection oven.  

- How much space do I have available?  

Are you working with a small space? A convection takes up much less space than a conveyor, brick oven, or pizza deck. For a slightly larger space, a deck oven will be just right. If you have lots of space to work with, you'll benefit from a conveyor oven.  

- How much money am I willing to spend on a commercial pizza oven? 

The budget is a real consideration that any professional kitchen will have to include before purchasing. For a low budget, you can get a good pizza convection oven for anywhere between $1k - $10k. You can get a portable countertop oven for even less! If you've got a little more money to work with, look at conveyor ovens and deck ovens between 5k and 30k.  

- What kinds of pizzas am I planning to make? 

Certain ovens lend themselves better to certain kinds of pizza, which means if you're planning to get creative with your pizzas, you can find an oven made for them. For thinner crusts and fewer toppings, you'll see great results with convection or conveyor pizza ovens. For a thicker crust and a heavier topping load, a deck or brick oven will work perfectly.

How to Use a Commercial Pizza Oven?

Pizza ovens are incredibly diverse and versatile. Each pizza oven will have a slightly different operation process, so it's hard to generalise. You'll need to spend more time researching the specific model you end up buying to get the full lowdown on exactly how to use it. 

For example, a conveyor oven can take lots of pizzas, one at a time, on a continual basis. A brick oven can take several all at once. However, they all will require a similar pizza-making process. It will look a little something like this: 

Make your dough. Let it rise. Bring to room temperature before shaping. 

Shape dough into whatever you want: pizza crust, breadsticks, calzones, etc.

Add your sauce and toppings. (Save fresh herbs for after cooking!)

Crank up the heat. Don't be afraid to get it real hot. You want it to heat for a little while before sending the pizza in for maximum crispiness on the crust.

Place the pizza in the oven with a baking stone, baking steel, or pizza rack.

Watch for the bubbling deliciousness of the cheese and take out when crust reaches the level of brownness you love.

The Difference an Oven Can Make

I hope this guide has aided you in your journey to find the right pizza oven for your pizza business! I know how many options are out there to sort through, and it can get overwhelming quickly. I made this guide so that you can see my top picks for commercial pizza oven as well as understand what you should know and consider about pizza ovens before purchasing anything. For great pizza content, you can always count on me to deliver!