5 Best Ooni Pizza Ovens for 2020 Reviewed
I have consistently enjoyed Uuni/Ooni's pizza ovens and accessories. There are some ovens though that are just better than others. This guide outlines my favourites of the Uuni/Ooni collection. As a pizza enthusiast with several years of experience cooking with different ovens, pans, and pellets, I looked at all the factors to make my selections in this Uuni pizza oven review. These factors include how easy it is to use, the price, and the additional features it offers.
20% Black Friday Discount on All Ooni Products!
There has never been a better time to buy an Ooni pizza oven! Simply click one of the 'Check Prices' buttons below to save 20%!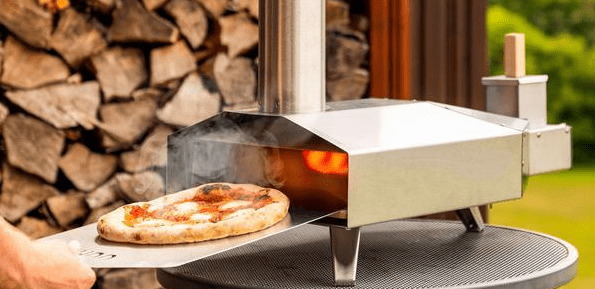 Everyone's tastes are different, which is why I listed the pros and cons of each product, so that you can make the choice for yourself based on what features are most important to you. Maybe you value a lightweight, portable oven for traveling to family cookouts. Or you might want a beginner stove without having to pay exorbitant amounts of money for features you won't use. Maybe you're like me and want to pay a little more for convenience and quality. 
Whatever you are looking for, Uuni/Ooni uses cutting-edge technology to bring some of the best pizza ovens, pans, and fire starters on the market. Here are some of my favourites products.
The Best Ooni Pizza Ovens
Don't Forget - 20% Black Friday Discount on All Ooni Products!
Simply click one of the 'Check Prices' buttons above to save 20%!
There are lots of pizza ovens on the market from various companies. Uuni UK blends quality design and cutting edge technology to design and construct some of the most impressive ovens available on the market today. They have their finger on the pulse of versatility, meaning they a variety of ovens for all types of cooks. I have found the ideal oven for myself, and the ideal ovens for family members and friends with Uuni/Ooni. 
Whether you are just starting out or you are a professional looking for professional-grade ovens, Uuni/Ooni has built an oven for you. I love that they carry more than just ovens. They also offer accessories like gorgeous pizza peels, heat-retaining sizzler pans, and highly efficient wood pellets. They even offer firestarters and other cooking elements to expedite your cooking process. 
The company really prides itself on reinventing what it means to cook pizza in a specialised oven. They don't just make ovens the way ovens have always been made; they are constantly innovating. Co-founders Darina Garland and Kristian Tapaninaho built their company around the values of ambition, innovation, rigour, kindness, and passion. They donate 1 percent of every single sale to a charitable cause focused on environmental or social impact. 
I love buying from companies that I really believe in, and Uuni/Ooni is founded by true pizza enthusiasts. They've even created a custom cookbook for their clients titled Ooni: Cooking with Fire. When you buy an Uuni oven, you become part of the community and the lifestyle.
Quality construction

When buying a new pizza oven, it is important to look for a few important features. Perhaps the most important is quality construction. The way a device is built can tell you a lot about how long it will last and how prone it is to break. It can also inform you how portable it is, and how it will look over time. 

With one of Uuni/Ooni's core values being innovation, their construction follows suit. They create quality pizza ovens that are accessible, portable, convenient, efficient, and easy to use. This way, everyone can be a gourmet pizza chef in their own home. Uuni/Ooni has managed to capture the essence of Italian pizza kitchens with their delightfully stylish ovens. The sleek silver construction with light birch accents creates a stunning addition to any patio or backyard. 

Many of these ovens are constructed to be portable and lightweight. They are designed with foldable legs that can easily make the device more compact and easier to transport in a car, or even just carry places. No more lugging around a massive grill; you can simply fold and carry these cleverly constructed, lightweight ovens wherever you go.

Performance

These ovens are designed for efficiency. Their materials are the highest grade stainless steel and cast iron, with beautiful stone baking boards. Heat retention is impressively high, meaning you can cook faster, better pizza that stays warm until it is on the table and ready to eat. Most of their stoves reach up to 500 degrees Celsius, and some can get there in as little as ten minutes. This is due to clever design and cutting edge construction. 

I love how fast these ovens can heat up. I often use mine at family cookouts where I want to get to cooking as soon as possible. With long preheat times I have to be out in the yard, waiting for the oven to heat up before I can get started. With most Uuni/Ooni ovens, I can get to it right away and start enjoying family time. 

Some of the ovens from this company can cook a pizza in just sixty seconds. This impressive feat seems too good to be true, but it is part of the Uuni/Ooni mission to create with ambition, innovation, and rigour. The founders' focus on these values makes it easy to see why their products perform so consistently.

Another element of this brand that I love is that there is very little setup to do. Many of these ovens work with a wide range of fuel sources, meaning you can just grab your typical fuel from the grill and get cooking.

The Bottom Line

Uuni/Ooni outdoor pizza ovens are available with almost every feature and style you can imagine, including Uuni gas burners. They pride themselves on versatility, as they appeal to many different types of pizza lovers. Be sure to know the ins and outs of pizza making before you make your purchase. This way, you are more likely to be satisfied with the oven you choose. 

Construction and performance are the two key qualities to look at in an Ooni pizza oven UK. They tell you how long your oven will last, and how well it will function. Choose an oven that fits the look, efficiency, and durability you need. This way, you can truly enjoy the relaxing and exciting art of pizza making. Delight your family and friends with custom homemade pizza today!