Are Pizza Ovens Just for Summer?
Despite being recognised as the focal point to many garden parties, outside ovens are far more than a summer novelty. Pizza ovens can be used during all seasons and are certainly a valuable addition to any household.  It's integral that the owner looks after their pizza oven during the winter but this doesn't mean that they cannot be enjoyed during the colder months, as wintertime fast approaches wooden ovens are becoming a hot topic.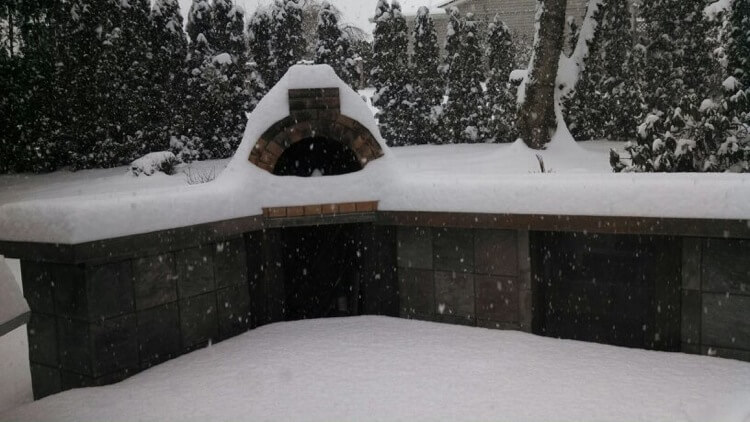 Although garden ovens tend to be synonymous with the summer as many like to indulge in a perfectly crispy crust during a party, they also work just as well during the latter end of the year. Throughout winter, pizza ovens can be embraced – in fact it's not a bad way to warm up!
Can You Use a Wood Fired Pizza Oven in the Winter?
Pizza ovens can most certainly be used during winter, so it could be a good excuse to start firing the oven and enjoy a sizzling pizza (or bread, or meat, or whatever you decide to cook!). The many manufacturers that showcase their ovens on our website all ensure that there's very little maintenance – and that applies all year round. There's very little difference between using it in the summer period and enjoying a pizza or other heated food during the cold times. It may take a little longer to heat up and pre-heating the oven could save you time, but the innovative designs (such as that seen in the Clementi, or the new Uuni Pro) can deal with temperatures of minus 30 and below.
How could you use your garden oven in the winter? There's so many ways to take advantage of the purchase and this includes heating up chestnuts to also warming the whole proximity. Nothing says cosy winter quite like roasted chestnuts, so cooking up a storm can be simple with these ovens. What's more, the oven will also heat up the patio. It makes sense to accompany the patio setup with some warmth and turn that oven on ensuring it doubles up as an oven and a heater.
Is it Safe to Use a Pizza Oven in Cold Temperatures?
The short answer is yes. It's a frequent question asked about various pizza ovens as many understandably want to capitalise on their features throughout the entire year. Luckily for customers, it can be enjoyed regardless of the weather, it is completely safe and can be used all the time. When it is colder it will just need to be wiped dry and obviously snow and other obstructions will need to be cleared from inside.
How to Look After a Pizza Oven
As previously mentioned- it doesn't take much preservation, as pizza ovens are generally well-built and protected from adverse conditions. For precaution, owners should try to use a cover that keeps the inside dry and also clean it often. With it being outside, it goes without saying that it should be wiped and cleaned after every use. If it's been raining or snowing then it will need to be wiped dry before use.
Here are five ways to ensure that a pizza oven is ready for use in the winter:
1.  It should be wiped and cleaned for hygienic use, this should occur after each and every single time it's been utilised.
2. Before use it should be dry, this means wiping it down removing snow, rain or any water that's found its way on or inside the oven.
3. Clear the inside of any wet or anything else, owners should always check inside before the oven is heated.
4. A cover or brick wall can be built around the oven, some form of cover can help the maintenance of ovens although they're not a necessity.
5. Pre-heating the oven before a party can help clear it and shave down time on the duration it will cook the pizzas. The night before a party, it could be worth heating up the pizza oven.
How to Build a Clay Pizza Oven Kit
All of the pizza ovens vary and are built differently but the best brands are all available here.  This saves a job and all are self explanatory, garden ovens are resilient and very versatile to all conditions meaning that outdoor ovens can be enjoyed during the winter and autumn, in addition to the usual summer enjoyment that many pizza ovens bring.
The life of the party guaranteed to bring the garden occasion heat, is the pizza oven and that's why so many have been flocking to purchase the best ones while they can.