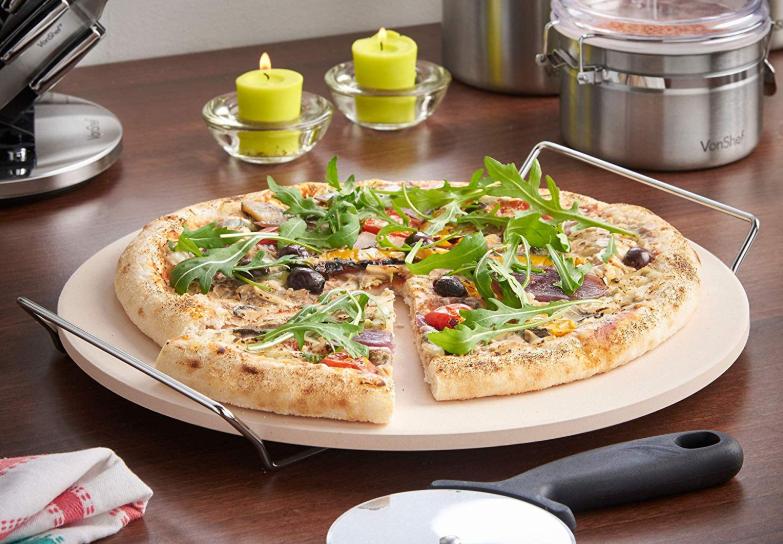 Pros
– Stone is made of ceramic – means it heats evenly and stays warmer longer than most stones.

– Easy-grip handles reduce the likelihood of your pizza tumbling to the floor. From experience, I can assure you don't want this to happen to your nice, crisp pizza

– Great affordable price
Cons
– Stone needs to be pre-heated for a long time to get a decent crispy base

– Difficult to clean
The secret to its effectiveness is the material itself. The ceramic stone spreads the heat evenly through your dough, ensuring you end up with well-baked slices every time. 
It also has high heat retention, which means you can keep your pizza warm for longer. I found this feature exciting because it meant I could serve my guests warm pizza no matter when they arrived.
Our Verdict
It's also non-stick, completely impervious to high temperatures, and comes with a chrome stand. Its price to quality ratio is amazing. If you are serious about making professional pizza at home, you should be seriously considering this product right now.
Pros
– Stone is made of ceramic – means it heats evenly and stays warmer longer than most stones.

– Easy-grip handles reduce the likelihood of your pizza tumbling to the floor. From experience, I can assure you don't want this to happen to your nice, crisp pizza

– Great affordable price
Cons
– Stone needs to be pre-heated for a long time to get a decent crispy base

– Difficult to clean
Like Review? Don't miss other Useful information!