The Best Pizza in Brighton Reviewed for 2023
Brighton is a city full of eclectic, fun spots, no matter what you are on the hunt for. This seaside town is buzzing with life, tasty treats, and activities. If you are a local or a tourist, it isn't hard to fall in love with the city. However, there is more than just seafood to try. Quite a bit more, actually. Brighton is a true jackpot when it comes to pizza spots. Whether you fancy a classic cheese pizza or a unique specialty option, there are many hidden gems to explore.
Today, we are highlighting the top three options we have tried to give you some great spots to add to your date night list. These are versatile, so you can get a unique experience at each without giving up your favourite treat: pizza. We'll give you the ins and outs of each spot's unique qualities that make it worthwhile. Get ready for your tastebuds to run wild with pizza.
Very Italian Pizza is a must-see whether you are swinging through Brighton or a local looking for a great new spot to try. It is vegan, vegetarian, and gluten-friendly, with tasty options for every preference. The best thing about Very Italian Pizza is that it offers farm to table ingredients from their family farm in Italy.
Staying true to the name, it is no lie that their dishes are very Italian and have the classic Italian touch that makes a pizza standout amongst the rest. This five-generation family business brings classics such as olive oil, homemade crust, and farm-grown meat and dairy to their dishes to give an extra one up from your typical pizza shop. 
Try one of their three locations all around Brighton to get a taste of this small piece of Italy from the comforts of the UK. Another fun component of Very Italian Pizza is their restaurants feel like a perfect mix of a nice dinner spot and a local farmer's market filled with fresh ingredients brought over and used in their pizzas. The smells will give you a bit of a preview of the great flavour to come.
The Gorilla Kitchen is a unique pizza spot that merges the universal love for pizza and their personal passion for Mediterranean food. An unusual and unique combination that has surprisingly great results.  They get their ingredients from all over, including Italy, Sussex, and Umbria, for the best of each ingredient. Their biggest outsource is from the San Felicissimo family farm near Perugia in Umbria, where they get their olive oil to give their pizzas a unique oomph!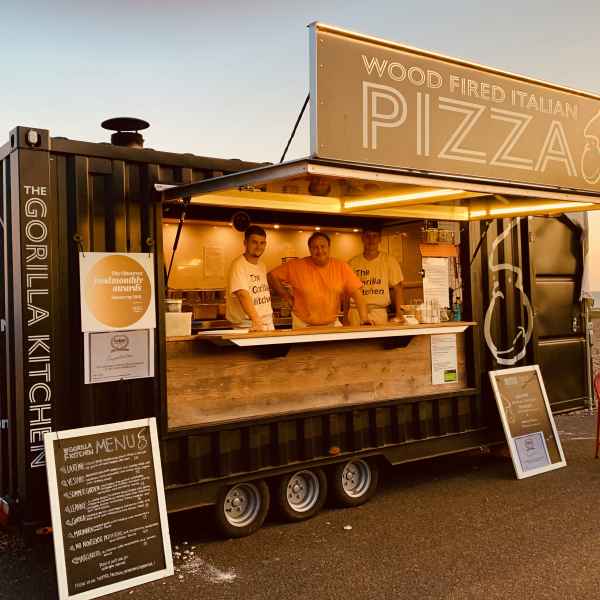 Whether you are looking for a change of pace in your pizza or a classic, you can find both at the Gorilla Kitchen. Their commitment to simple and clean ingredients makes for a flavorful dish no matter what you order. They also sell their olive oil and Nduja di Antico Nero to take home with you to create your own dishes, so you can enjoy that Gorilla Kitchen quality even when you aren't there.
Wild Flour Pizza has loads of options for whatever food preferences you have. Not only are there tasty classics such as cheese, pepperoni, and speciality options, but wIth vegetarian and vegan options, there is something for everyone to enjoy. These wood-fired Artisan pizzas are made at a top-notch level. Their business is nuzzled in the heart of Brighton, which gives charm to their family-run business.
The unique feature about this pizza spot is that you are getting amazing flavour and quality, but also amazing service that is welcoming and makes you feel a part of their quaint village. This is the perfect local spot to get a taste of Brighton, whether you are visiting for the first time or looking for something different as a local. It was also listed as the traveller's choice of 2021, so you won't be the only one who has fallen in love with Wild Flour Pizza. Many have caught on to its unique and flavorful treats, so be sure to get it in before it turns into the new crowded date night spot of the city!
Be sure to check out each spot to see which is your favourite. Who said pizza had to be a rare occasion? Make every night pizza night instead and try each of these three spots! Pizza makes the world go round, and Brighton's hidden gems are no exception.