The Best Pizza in Belfast Reviewed for 2023
Belfast is a charming city located in Northern Ireland. Not only is it the capital of Northern Ireland, but its biggest city. You may know Belfast as the birthplace of the famous Titanic that struck an iceberg and sank in 1912. There is actually a famous museum commemorating this unfortunate date.
Today, this city is widely visited for its scenery, museums, and pubs. How about when it comes to dining options? You'll be pleased to learn that Belfast is home to some amazing pizzerias. Whether you're a Belfast resident or visiting this charming city for the first time, we've compiled a list of eateries worth grabbing a bite at. 
Read on to learn all about the best pizza in Belfast for 2022!
Pizza Punks is open Monday through Sunday 12 pm-10 pm. Their doors opened in 2018, right in the heart of Belfast. This pizza spot deserves its spot on this list because they don't play by the rules. They're not scared to give customers exactly what they want, whether that's macaroni and cheese on their pizza or something as simple as pepperoni.
Well known for their iconic sourdough pizzas, customers can customise their pizzas to include whatever toppings they want at no extra cost. Enjoy a traditional Margherita pizza, or something more unusual like chilli chocolate pulled beef pizza. After glancing at their menu, you'll notice that the possibilities are endless.
Tony Macaroni is open Sunday through Thursday 12 pm-9:30 pm and Friday through Saturday 12 pm-10 pm. They offer vegan and veggie-friendly options along with gluten-free meals. 
Founded in 2007, they have more time in the game than Pizza Punks. We are big fans of Tony Mac because of their 5+ menus. They've continued to grow their menus to suit all audiences – children or adults! Guests will enjoy anything from pizza to burgers to pasta. And after guests have eaten a 5-star meal, they can top it off with some authentic Italian ice cream or a similar dessert.
Along with their several menu options, guests have access to Tony's Newsletter and Tony TV, which keeps them up to date with any specials, promos, contests, and more! Tony Mac doesn't fall short when it comes to entertainment, and you won't either in terms of having an enjoyable meal.
Little Wing Pizzeria is open Sunday through Wednesday 11 am-10 pm and Thursday through Saturday 11 am-11 pm. They've been in business since 2010, and several shops surround their Belfast location off Lisburn Rd. This means customers can dine at Little Wing after a long day of shopping. After all, there is no better way to finish up retail therapy than stuffing your face with quality pizza.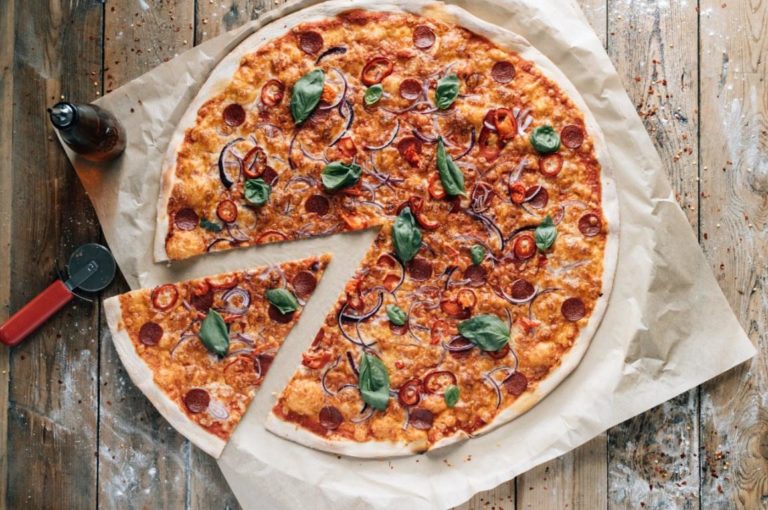 Aside from its great location, you can't compete with the vibe at this eatery. Guests will enjoy quality pizzas in a breathtaking atmosphere intended for both kids and adults. And they're open late on weekends, making it the perfect time to grab a drink with friends.
The Marcus Wand is open Wednesday through Saturday 12 pm-1 am and Sunday 1 pm-12 am. We chose this eatery to be in our top Belfast pizza spots because of its great food, amazing cocktails, and entertainment. It's the perfect spot if you're looking for a spot that opens late.
Further, the menu options at The Marcus Wand are far from basic. You can enjoy exquisite starters like grilled halloumi lollipops or some pork popcorn. When it comes to pizza, you have several options, among them the Bumblebee pizza, which is made up of chili, vegan mozzarella, agave, and jackfruit (a great option for vegans). And, if you're not in the mood for pizza, you can't go wrong with a burger!
There you have it – the top 4 pizza spots in Belfast, Northern Ireland. If there's one thing we love more than making pizza here at Pizza Oven Reviews, it's eating it! We're confident you won't be disappointed at any of the pizza spots listed above. 
Pizza Punks is a wise choice if all you're interested in is pizza – they have a selection for days! Tony Macaroni is perfect for picky eaters since they have dozens of menu items ranging from pizza to pasta to burgers. Little Wing Pizzeria offers an ideal location allowing guests to grab a quality meal before or after they shop. And finally, The Marcus Wand is great for those late-night dinners with family or friends! 
Whatever you're in the mood for, there is a pizzeria in Belfast for everyone.