How to Make Chocolate Pizza
I've made authentic Neapolitan, Sicilian, New York-style pizza, and everything in between in my years of pizza baking. The one recipe I've always stayed away from was chocolate pizza. After all, chocolate on pizza sounds bloody weird, right? 
I thought so too until I finally tried it myself. Surprisingly enough, this dessert pizza is worth the short time it takes to make it. Whether it's your birthday or you're just craving something sweet, you need to make your own chocolate pizza. Trust me mate, you'll thank me later! 
Keep reading to learn how to make bloody delicious chocolate pizza right from your home kitchen. It's easily made from scratch with basic ingredients that you likely already have in your pantry.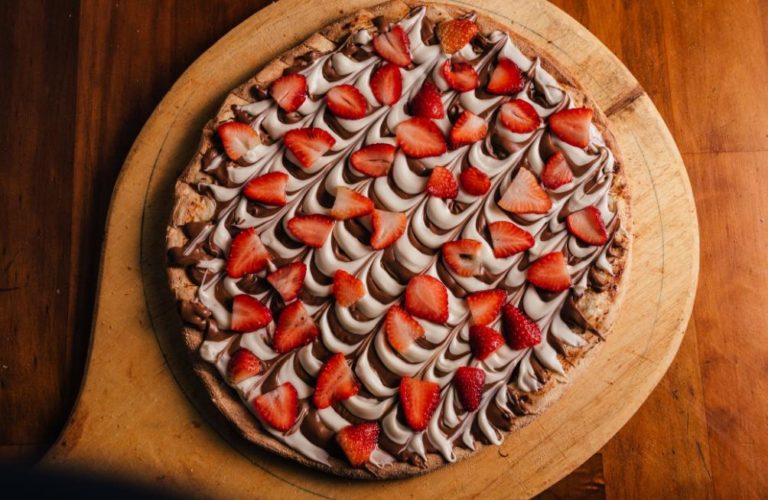 Overview 
The preparation time for this recipe is only 10 minutes and consists of gathering your ingredients, preheating your oven, and rolling out the dough. Then, you'll need to set aside 30 minutes of cooking time which means you'll have ready to eat dessert pizza in as little as 40 minutes. 
Let me note that this time doesn't include making the dough. Some people like to freeze their dough until it's ready to use, while others prefer to make it that same day. I'll touch base on dough making a little later, so be sure to stay tuned. 
Now, back to how to make chocolate pizza. 
Ingredients 
Pizza dough 

30ml melted butter 

76g Nutella or your favourite chocolate hazelnut spread 

64 g semisweet chocolate chips 

20g white chocolate chips

20g chopped toasted hazelnuts 

 
Directions 
Preheat your oven to 232

℃

.

Roll out your dough on a lightly floured surface until it's about 12 inches round. 

Transfer the dough to your pizza stone or baking sheet. 

Using your fingertips, make indentations all over the dough. 

Brush it over with the melted butter and bake for about 20 minutes or until it reaches a pale golden colour. 

Add on the toppings. 
Adding the Toppings 
Here comes the fun part: adding the toppings! Once you pull the dough out of the oven, top it with your chocolate ingredients while it's still hot. 
Add the chocolate hazelnut spread.

Sprinkle the semisweet and white chocolate chips over it. 

Bake for about 2 minutes or until the chocolate begins to melt.

Pull out of the oven and sprinkle the chopped hazelnuts. 

Slice into wedges and serve. 
When it comes to toppings, you can literally add whatever you'd like. I've seen people use sliced strawberries, an assortment of berries, peanut butter, marshmallows, and so much more. Or, if you're like me, keep it simple with Nutella.  
Making the Dough 
Let's circle back to the dough for a second. Like I mentioned earlier, the time it takes to create this dessert is roughly 40 minutes. This, however, does not include making the pizza dough. If you want to make your dough from scratch, here's what you need to know: 
Ingredients  
365ml warm water

2 teaspoons yeast

600g all-purpose flour

Salt 

Sugar 

 
Directions 
The process of making the perfect dough consists of using the right ingredients and rolling it like a pro. Follow these simple steps:
Combine warm water with yeast and let it stand for five minutes. 

Add flour, salt, and sugar. 

Make a well in the middle of your mixture. 

Little by little, add the water to the well and stir with your fingers to combine. 

Transfer your dough to a lightly floured surface. 

Knead your dough until smooth (10-15 minutes usually does the trick!). 

Cover with a tea towel and set aside until risen. This process takes about 30 minutes. 

After it's risen to twice the size it was, knead once more on a lightly floured surface.
Voila! Your dough is ready to go. You can find the complete dough making recipe here.
Can I Use Store Bought Dough? 
Yes, you can. If you decide to go with dough from your local grocery store, make sure you give it enough time to rise. I've found that many people struggle making pizza at home with store-bought dough because stretching it is very difficult. When dough is cold, it will bounce back to its original shape when pulled. This is why you need to warm it up to room temperature. 
I recommend setting your dough near a window or wrapping it up in a kitchen towel and setting it on the counter. The dough should rise anywhere from 30 minutes to a couple hours. You'll know it's ready once you try to shape it and it doesn't shrink back. 
Conclusion 
I hope this chocolate pizza recipe has served useful and you have all the material needed to create a savoury dessert pizza. Best of luck to you mate and enjoy!