The Best Pizza in Glasgow Reviewed for 2023
Glasgow is known for many things: the architecture, the whisky, and being the world's friendliest city. With such a reputation to maintain, our standards were pretty high when visiting this charismatic city. 
After a long day walking the streets of Glasgow, you're going to want to grab a bite. Thinking what we're thinking? You can't go wrong with pizza! If you're in the area and want some quality food, here are three hot spots to visit.
The Dockyard Social is the ideal spot for people who can't decide what to eat. There are a total of ten food vendors at this industrial warehouse that, up until 2019, used to be one of Glasgow's world-renowned naval engineering facilities. We love what they did with the place and know you will too.
This street vendor market made its way onto this list because of the atmosphere, great drinks, and amazing food. You can expect anything from Thai food, Southern American food, and everything else in between. And for those wondering, yes, they serve pizza! There's always at least one pizza vendor making mouth-watering wood-fired pies. 
If you're in the area, consider swinging by The Dockyard Social. They have live music, any drink you could be craving, and of course, ten street vendors. These vendors rotate every couple of weeks, giving foodies something new every time. 
Be sure to read our complete review of The Dockyard Social to learn what to expect when arriving. They're open on Friday, Saturday, or Sunday evenings offering a great way to start and end your weekend.
The first reason Oro has made its way onto our top pizzerias in Glasgow is that it's owned and operated by one of Scotland's favourite chefs, the one and only Chef Domenico Crolla. This immediately sets expectations sky high, and we're confident you won't be disappointed.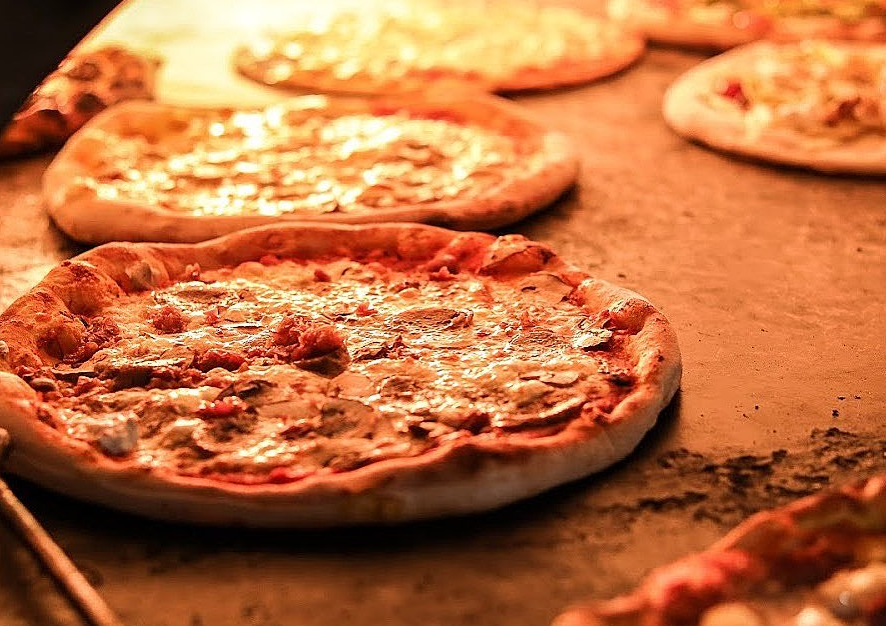 This restaurant was once a cafe known as Bella Napoli. However, Chef Crolla rebranded it to Oro. This change was due to the expansion of clientele and Chef Crolla's desire to expand his menu. Several awards later, Oro is considered one of the finest Italian cuisines. 
You can expect a wide arrangement of meals at Oro, including wood-fired pizza. But it's not just any regular wood-oven that is used. Their pies are made in a 25K gold leaf-covered oven. Yes, you heard right! This is the first and only restaurant to use an oven covered in 25K gold leaf – just another reason you can expect a great dining experience at Oro.
There are a few other fun reasons to dine at this establishment which we've outlined in our complete review. Be sure to check it out! If you're convinced you want to dine at Chef Domenico Crolla's restaurant, note there is a dress code to follow. They require a smart casual dress code which means that beachwear or sports attire won't make the cut!
Shilling Brewing Company is open every day of the week for lunch, dinner, or drinks! As soon as you walk into this building, you'll notice the breathtaking Art Deco. The design isn't the only thing that's spot-on, though – have you ever tried one of their in-house beers?
This microbrewery has quite a few in-house beers that you can only find at their brewery. And, because they're made a short distance away from the actual bar, you can expect the freshest pint in Glasgow! And if you're not crafting a craft beer, there are over 25 draught beer lines to choose from. 
As for food, Shilling Brewing Co. serves authentic wood-fired pies. Their pizzaiolos make the dough using only the finest ingredients with a little bit of their on-site beer! It's quite delicious, especially when you pair it with a tall glass of beer. 
If you're looking for a casual yet charming spot, The Shilling Brewing Co. won't disappoint. Be sure to check out our complete review to learn more.
What Are You Waiting For?
Don't hesitate when looking for places to dine in Glasgow. We've given you three amazing pizzerias to dine at, all including refreshing beverages like cocktails or beer. 
In the mood for great music, food, and drinks? The Dockyard Social is where you should be. Are you a huge fan of Chef Domenico Crolla's work? Visit Oro next time you're in Glasgow. Craving a taste of the best beer in Scotland? Go to Shilling Brewing Co.
There's truly something for everyone in Glasgow. We hope we've helped you narrow down your dining selection!