The Best Pizza in Bath Reviewed for 2023
Bath is full of beauty. Whether you are dipping into the ancient baths or embracing the new culture that it has grown into over the many years of its existence, there is so much to fall in love with and enjoy as a local or a visitor. That being said, the excitement doesn't stop there. 
While it most likely isn't the first thing that pops in your mind when you ponder on the wonders of Bath, surprisingly, there are quite a few amazing spots to eat in the city. Specifically, pizza spots. We have scoured the city looking for the best and found some heavy contenders. Whether you are a huge foodie, a pizza lover, or wanting to find another fun activity for the night, check out these pizza spots to see which one you enjoy the most.
If you are well versed in pizza spots in the UK, then you might have heard of The Stable before. While this spot does have a few different locations, it is far from the stereotypical pizza chain that spits out subpar pizza quickly on a daily basis. Quite the contrary, The Stable uses fresh ingredients such as their own sourdough bread and tomato sauce to craft authentic wood-fired pizzas that are to die for.
There is a welcoming environment that makes you feel at ease before you chomp into your tasty treats. One of the most remarkable features about this spot is that there are constant deals and specials going on to ensure that you and your family will be able to afford as much pizza as your heart desires. 
They also do holiday menus to keep things interesting, so you never get tired of this spot. Who doesn't like to switch things up every once in a while? Grow familiar with The Stable and try each of their unique pizzas and cocktails. You will need to visit quite often to accomplish the feat!
Looking for a spot with a bit more pep in their step to begin a long night out on the town? Perhaps you'd want to give Bath Pizza Co a shot. With beautiful terrace seating and a wide range of tasty cocktails, this is the perfect spot to grab dinner before you start pouring back drinks.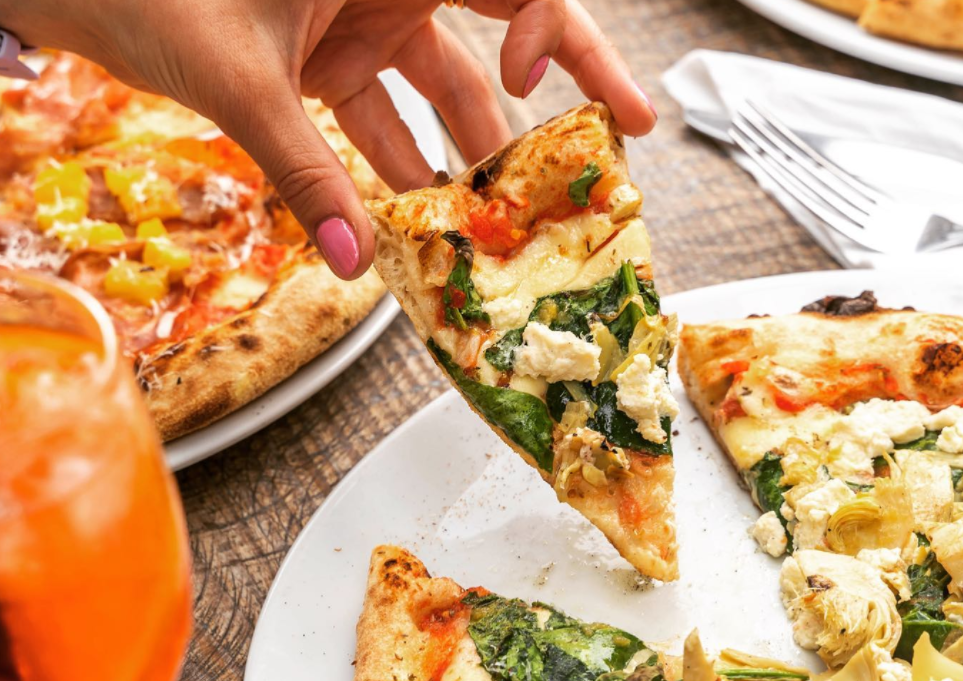 There's more to this spot than alcohol, however. Bath Pizza Co embraces its three core values: authenticity, quality, and value. They have backed up their many awards with expertise, a passion for creating the best pizza possible, and years of dedication and loyalty. Well, awards are not everything, it does say something that should bring a sense of comfort and trust that you are going to get a great meal for the night. 
As should be expected, Bath Pizza Co used the beat of the best to craft their unique pizzas. A good pizza spot should have its own flavour and finishing touch and this spot does just that. So grab your girlfriends, guy friends, or all of the above and start your night with a bang at Bath Pizza Co. Your spirits will be high and your stomachs will be full.
In a world of replication and regurgitation, it can be difficult to find anything authentic nowadays. That is why The Real Italian Pizza spot and bath is so unique. With Italian owners who grew up on true authentic Italian pizza, they brought their love and passion for their country's food to the comfort of Bath. You cannot replicate tradition or ingrained knowledge. That being said, there is no need for replication when you can get pizza straight from the source at The Real Italian Pizza.
While their menu is simple, it does have a few other varieties of Italian favourites such as pasta and salads. Grab a large group or make it a solo event and step into a little piece of Italy.  Italy is all about family and friendship, and that is the goal of this pizza spot. To provide a safe, welcoming, and tasty venue for you and your loved ones to craft memories, conversation, and joy. After all, who wouldn't be joyful after indulging in such mouth-watering dishes? 
If you're familiar with Italy or have never stepped foot in the country, you now have a chance to get a piece of this Italian dream while still welcoming all there is to offer in Bath. Sounds like a win-win to us which is why we have fallen in love with this pizza spot and can't wait for you to do the same.