What to Serve With Pizza? (7 Amazing Side Dishes)
Are you ready to take your pizza nights to the next level?
If you're looking for delicious side dishes that will complement your go-to pizza, then look no further! From crunchy salads and tasty pasta to roasted vegetables and cheesy potatoes, this guide covers it all.
With these easy-to-follow recipes, you can make a variety of crowd-pleasing sides to serve with any kind of pizza – whether it's a traditional margarita or loaded pepperoni!
So what are you waiting for? Read on and discover how your flavorful feast can reach its full potential.
The Best Side Dishes to Serve with Your Pizza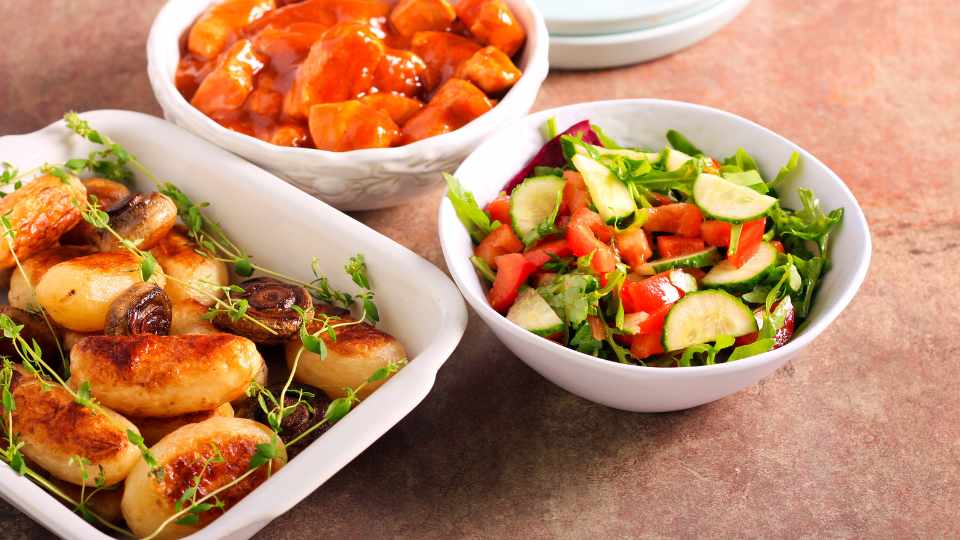 Basic Soups
Pizza can be filling, especially when topped with pepperoni, cheese, sauce, and oil.
If you want to balance your meal, consider serving a light side dish. And soup is a great option because it's a tasty and appetizing way to stimulate your appetite without feeling too full. Additionally, soup is considered a "universal appetizer" because it's light and delicious.
Tomato soup is a great appetizer to serve before the final pizza dish. Because it has a light flavour that won't make your guests too full for the main course. Plus, its tomato and cheesy notes will complement the pizza well.
Some people prefer to have a heavier soup, such as cream of mushroom, before having their pizza. This works well especially when the pizza is light, like a Margherita, for example.
A Bruschetta Bar
A bruschetta bar would complement pizza well. If you're already serving finger food for the main course, consider serving finger food as an appetizer too. A traditional antipasto or bruschetta bar would further enhance the Italian theme of the meal.
The best thing about a bruschetta bar is that it can be customized with any ingredients of your choice. Traditional antipasto usually consists of different cheeses, honey, fruits, and cured meats which provide a contrasting sweet flavour.
Creating a bruschetta bar is an effortless and enjoyable activity. You just need to gather any cold cuts, cheeses, and fruits that you have in your pantry and display them on a chopping board in any way you like. Afterwards, let your guests serve themselves! This not only produces flavorful bites but also promotes interaction among guests.
Salad
Pizza is not a very healthy option due to it being high in salt, fats, and carbs, even if you add healthy toppings like vegetables. It's perfectly fine to enjoy it occasionally, but it's essential to keep your diet balanced. That's why we recommend a basic salad as an excellent side dish for pizza.
If you don't want to worry about the recipe, you can opt for a simple Caesar salad. To prepare it, you just need lettuce leaves, Caesar dressing, and good croutons. With these ingredients, you can quickly make a delicious Caesar salad that complements pizza perfectly. The freshness and lightness of the salad contrast well with the rich, salty flavours of the pizza, which makes it an excellent appetizer for your guests.
Ratatouille
Ratatouille is a fresh and delicious dish that pairs nicely with pizza if you want to show off your kitchen skills without working too hard. For a good ratatouille, it's essential to slice the vegetables very thinly, so you may need to use a Mandolin. This dish typically includes bell peppers, tomatoes, yellow squash, eggplants, zucchini, and mascarpone cheese, and it's a great addition to your pizza meal.
Potato Salad
To ensure all guests leave satisfied at your pizza party, consider offering a filling side dish. Potato salad is an excellent option due to its creamy texture and starchy potatoes which contrast well with the acidic and salty flavours of pizza. Additionally, potatoes are quite filling, meaning your guests will feel satisfied by the end of the party.
Coleslaw
To avoid overwhelming your guests with too many carbs at your pizza party, we recommend serving a refreshing side dish like crunchy and creamy coleslaw. It's easy to make and provides a great textural contrast to the rich and flavorful pizza. Plus, because it's served cold, it balances out the hot pizza perfectly. Combining coleslaw with homemade pizza makes for a simple yet perfectly balanced dinner that your guests will love.
Chicken Wings
If you're planning a classic pizza night, consider adding delicious chicken wings to your menu for a special touch. Although preparing and cooking wings can be time-consuming, they are a great way to satisfy your dinner guests. With chicken wings, you have the flexibility to choose the flavours you want. For example, serve buffalo wings with blue cheese dip for a rich contrast to the pizza. Alternatively, you can go for garlic parmesan wings if you want something lighter on the table but still delicious.
FAQs
Should I Serve Appetizers with Pizza?
You don't need to serve appetizers with pizza as it's already a very full and rich dish. However, if you want to elevate the dining experience, serving a simple but complementary appetizer along with the pie goes a long way.
What's a Healthy Pizza Side Dish?
The healthiest side dish to serve with pizza is a simple green salad. These dishes taste great, are easy to prepare, and will be a great light pairing with your hearty pizza.
What Do Italians Have with Their Pizza?
Typically, Italians have a simple pizza topped with a bit of sauce, some mozzarella cheese, and rolled basil leaves. Traditional Italian pizzas are very different from the rich dishes we find at restaurants and fast-food chains, but they are just as satisfying.
Conclusion
If you're hosting a pizza night and want to take it to the next level, you might want to consider serving some appetizers. When you choose the right side dish for your pizza, you give yourself and your guests an amazing and unforgettable dining experience. And if you're having a hard time determining the best pair, feel free to go through our list and choose any of the options above!