The Best Pizza in Leeds Reviewed for 2023
Leeds is a unique city with some unique pizza spots. As one of the larger cities in the UK, it has loads of opportunity mixed with the long history of this town. Historical buildings, beautiful views, and lots of business. It is also known for its theatre and dancing venues that add to the culture of the city. This brings something unique to Leeds that many other cities in the UK can't say the same. 
When it comes to food, there are loads of options at your fingertips. This is why we chose Leeds to be a point of reference for great pizza spots. Whether you are a resident in Leeds or visiting and looking for a good place to grab a bite, there are so many options that it can be difficult to find the best one. 
That is where we come in. We have done the searching so you don't have to! Each of these spots is unique in its own way with great flavour and unique atmospheres, so if you aren't careful, you'll be making pizza night every night of the week.
To start off with a bang, Mozza is a fantastic choice. With award-winning pizzas, you can't go wrong visiting this tasty gem. This is a classic pizza spot that brings a wide variety of Neapolitan pizzas that will have you falling in love with pizza all over again. Rating highest of the three choices, the flavour and service is top tier at Mozza.
Our favourite thing about this spot is its unique pizzas. Nowhere else are you going to find a pizza with fig and peach jam on it. Don't knock it till you try it, this is actually two of the ingredients on one of their award-winning pizzas. You are sure to have an experience like no other in terms of flavour when you take a chance and visit Mozza. 
Mozza also has beer, wine, and cocktails to give you a bit of oomph with your pizza. It's one of the more affordable and laid back choices, so if you are looking for somewhere tasty that won't break the budget, you can still give Mozza a try. Who said great food has to cost an arm and a leg?
Looking for something a bit more unique? You can't get much more unique than Bibis Italianissimo. This spot is so much more than a pizza place. It offers shows every weekend to give you entertainment for the entire night. The venue is 1920's themed, decked out even with artistic bathroom design. This 50 year plus spot has been a success for quite some time and doesn't seem to be going anywhere in the near future.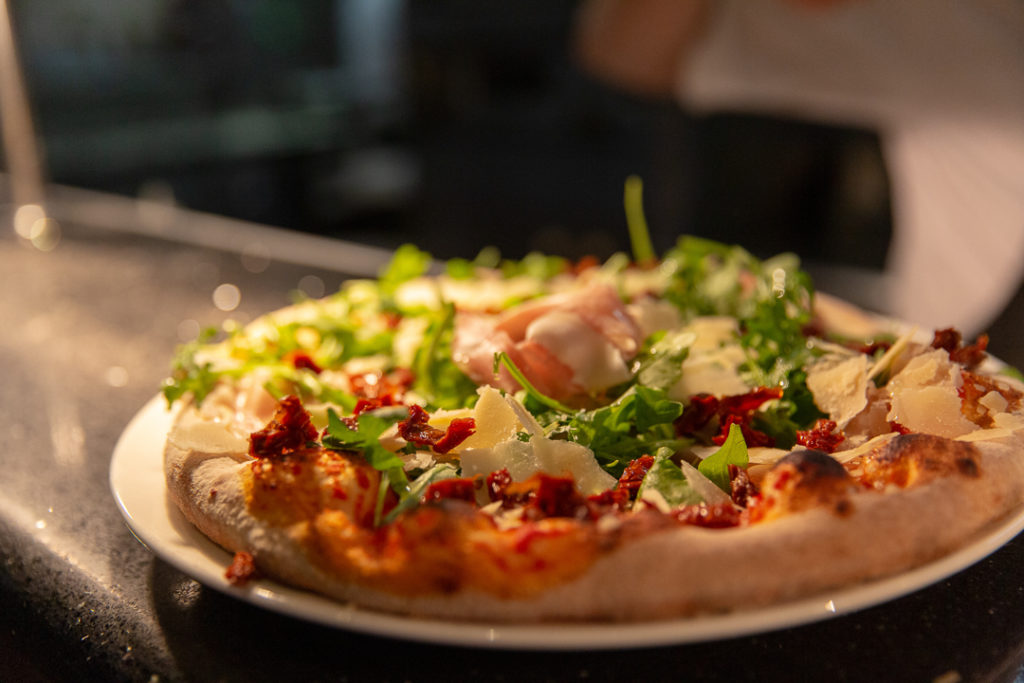 There is a lounge, bar area, and classic restaurant seating, so you can decide what type of atmosphere you want to choose from. It also offers a large selection of dishes including, but not limited to pizza. It offers pasta, small starters to munch on, and sumptuous desserts. Paired with unique cocktails, there is no way to lose when you choose this spot. 
Bibis Italianissimo is located in the centre of Leeds, so you don't have to make a long trip to give this place a try. Explore the city before or after you grab a bite and see all the great things Leeds offers. Nothing is better than stumbling upon a gem with a great environment to get your night started.
LIVIN' Italy is the second home of the three. This welcoming and casual spot has a great juxtaposition of high-quality menu items. You can choose a simple panini all the way to muscles for your dish.
There are also loads of events that LIVIN' Italy puts on including Lazy Sunday Live Music and Italian afternoon tea. While afternoon tea is typically dominated by the UK, Italians are known to do everything bigger and better, and tea is no exception. Ran by a family of Italians, this pizza spot has travelled all the way from its start in Milan to Leeds without losing the Italian touch. 
LIVIN' Italy also partners with Italian food makers to ensure that every ingredient is top of the line and brings you the best possible flavour despite their vast amount of selection. On the other end of the spectrum, they also offer wine and cocktails, so you can come in for a glass or two while enjoying some music if you're looking for something fun to pass the time with.