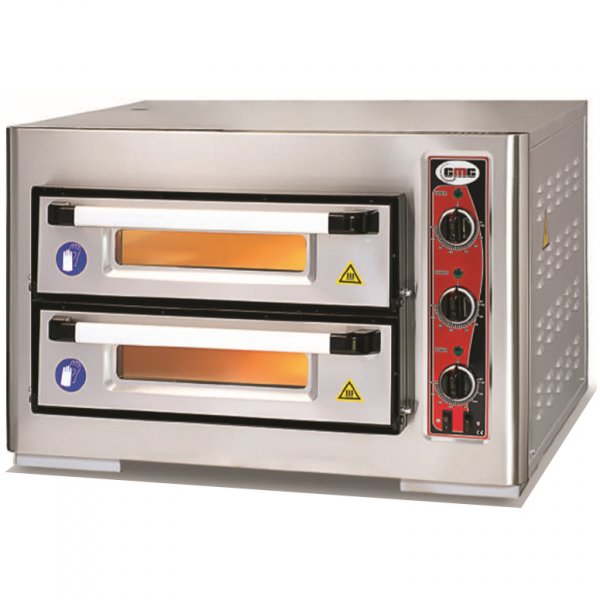 Pros
– Capable of cooking a large number of pizzas.

– Electrically powered.
Who is This Pizza Oven For?
With an astonishing capacity of eight 300mm pizzas, and a host of amazing features that will produce delicious pizza, the PF6262DE is definitely an oven for professional caterers or restaurant owners who prize speed as much as quality. 
While nothing would please me more than being able to crank out eight mouth-watering pizzas at a time, the oven's size and price also make it impractical for home use. 
Specifications
Weight: 144kg

Dimensions: 890mm x 720mm x 760mm

Indoor/Outdoor Use? This oven has an integrated chimney, so it can be used both indoor and outdoor.

Colour Options: It comes in only one colour. Its front is stainless sheet steel painted.

Gas? This is an electric oven and does not operate on gas. 
Where Can I Use This Oven?
With its rather bulky size, I'd need the place the Adexa PF6262DE in a large kitchen or in an outdoor cooking area that can accommodate it. 
Being an electric oven, it needs to have a power supply nearby.
It's an attractive piece of equipment, though, so I don't feel like I'd need to hide it from my customers. 
What Makes This Oven Special?
The Adexa PF6262DE is one amazing piece of equipment. It looks good. It can handle a large workload, and it has plenty of great features for a caterer or restaurant owner. 
It has two individually heated chambers. Each is 620 x 620 x 150mm in size and capable of cooking four 300mm pizzas simultaneously. Each individually lit chamber has a heat-insulated, ergonomic door handle as well as a fireproof safety glass window, so you I can keep an eye on the pizzas as they cook. 
The chambers are capable of cooking at a heat setting between +85°C and +450 °C. Interior heat insulation is provided by high quality mineral rock wool, meaning that the oven loses minimal amount of heat. This saves you a bundle on electricity costs. 
On the topic of energy consumption, the Adexa PF6262DE requires single-phase power with a standard 3-pin, 230V electricity supply. 
The oven also comes with a 12-month spare part warranty. 
Why Should I Buy This Oven?
The answer to this question is easy. You should buy it if you regularly cater for a large amount of people who order pizza. 
Another great reason is it's such a good investment is because it is powered by electricity rather than wood or gas:
Wood fired ovens are preferred by artisanal cooks and gas ovens are preferred by the energy conscious, but for cooks who need to produce large quantities fast, electricity has no equal.

Electrically-powered pizza ovens are far more convenient to use, require less maintenance, and are much less effort to install. 
Also, if you're considering an oven that can accommodate eight pizzas concurrently, I assume you're working in an environment where efficiency is as important as quality. If this is the case, an electric oven like this is an excellent choice. 
Each of the PF6262DE's chambers is regulated by a thermostat, meaning that you'll have greater control over the cooking process – a must for restaurants that have a large output of pizzas.
Our Verdict
This pizza oven is ideal for customers who need to product a large amount of pizzas. It's sourced by an extremely reputable supplier who delivers to customers in the UK. 
Keep in mind that it's a very large, heavy piece of equipment so be absolutely sure that your restaurant or catering business will make full use of its capabilities before making the investment.
Pros
– Capable of cooking a large number of pizzas.

– Electrically powered.