How to Make Pepperoni Pizza Like a Pro
Are you ready to take your pepperoni pizza game up a notch? With this step-by-step guide, you'll be making delicious homemade pepperoni pizzas in no time!
Pizza is one of the most popular dishes around the world, and adding some zesty pepperoni will make it even more delectable. Whether you're an experienced chef or a novice in the kitchen—everyone can learn how to perfect their own personal version of this classic Italian dish.
Here's how.
The ingredients you will need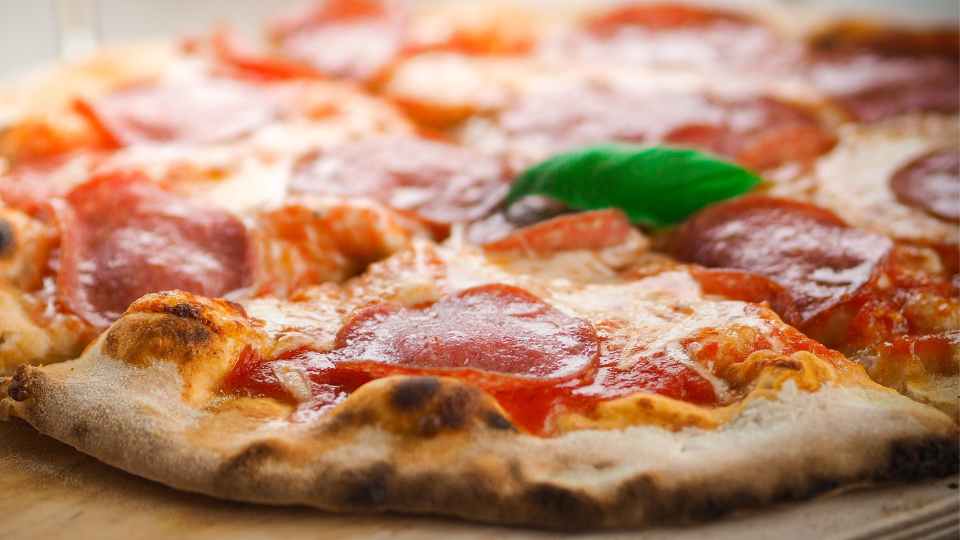 To make a mouth-watering pepperoni pizza, you'll need a few essential ingredients.
– First, you'll require a tablespoon of dried yeast. Yeast acts as a leavening agent in the dough, helping it to rise and become fluffy. A pinch of salt is also needed to add some flavour to the dough.
 
– 140ml of warm water is necessary to activate the yeast and begin the dough-making process. If the water is too cold, the yeast won't activate, and your dough may not rise. On the other hand, hot water can kill the yeast, so it's important to ensure that the water is warm enough.
 
– Achieving an exceptional, flavoursome crust requires 180g of strong plain flour. This type has a greater protein content than conventional flours, resulting in improved texture and a better rise when baking.
 
– Enhancing your dough with a tablespoon of olive oil and dried basil will elevate its flavour profile, making it truly special! The addition of olive oil lends the crust a delightful softness, while the hint of fragrant herby aroma from the dried basil elevates its sensory appeal.
 
– For any pepperoni pizza, the best topping is undeniably a generous sprinkle of spicy pepperoni slices. To get that classic taste you love, it's essential to find an exceptional quality brand with the right zestful flavour.
 
– Now, let's move on to the sauce! We need a tin of chopped tomatoes and two tablespoons of tomato puree, which form the base of the pizza. The tomatoes provide the tart contrast necessary to balance the salty, fatty toppings.
 
– Grated cheddar or mozzarella is sprinkled over the top of the pizza as a delicious topping. Cheddar cheese carries a tangy flavour that can complement the pepperoni slices. Mozzarella cheese has a mellower taste that doesn't overpower the other ingredients, and it's also an excellent melting cheese.
 
– To add more depth to the whole thing, we'll also need one chopped onion and two cloves of garlic sliced thinly. The onion offers a mild sweetness, while garlic brings the dish some classic Italian flavour.
 
My step-by-step pepperoni pizza baking recipe
Alright, now that all of our necessary ingredients are prepared, let's get cooking!
– To begin crafting the pizza base, combine yeast, salt and water in a jug. In a separate bowl mix oil with flour before creating a well in the centre. Then pour in the water mixture using your wooden spoon to thoroughly incorporate it together until you have achieved wet dough-like consistency. Now take this dough and knead it on a floured surface for five minutes to complete your regal recipe!
 
– Place the dough in a lightly oiled bowl and cover it with a tea towel. Allow it to sit at room temperature for thirty minutes, giving time for it to expand twofold. When ready, shape the mass into an ideal pizza base and pierce it multiple times using a fork.
 
– Now it's time to get creative! Start off by smothering the base with a tomato puree and top it with fresh chopped tomatoes for texture. Then, add some onions and garlic for an extra kick of flavour. Don't forget to sprinkle on a generous layer of cheese followed by pepperoni slices arranged in whatever pattern you like. Next, season your masterpiece with salt and pepper before finishing off the dish with some basil leaves as garnish.
 
– Drizzle some oil over a baking sheet and place your pizza on it. Put whatever toppings you like for an extra bit of flavour (but don't overdo it). Then, heat up the oven to 400°F (or 200°C) and bake your culinary masterpiece for twenty minutes or until it's golden brown.
 
– After taking it out from the oven, let cool down before cutting it into slices so that all those flavours can really sink in! And there you have it – piping hot homemade pepperoni pizza straight from your very own kitchen!
 
Tips for making a crispy crust with your pepperoni pizza
Here are some tips of mine to help you achieve the perfect crispy crust:
– Use high-protein flour for a crispier crust. Look for "bread flour" or "pizza flour" at the grocery store. All-purpose flour will work, but your crust won't be as crispy.
 
– Before you start baking, preheat your oven to a minimum temperature of 400°F (200°C). Having a pizza stone? Utilize it! Place the stone in your oven while you wait, so that when your crust comes out of the heat, it's perfectly crisp and golden. Your friends will be begging for more!
 
– To achieve the ideal crunchy pizza in a timely manner, make sure to roll out your dough as thin as possible – don't be afraid of it tearing. Stretch it until you can no longer without breaking it for optimal results!
 
– For a delicious, crunchy crust, carefully select your sauce; opt for either a light layer or even just an olive oil drizzle. Thick and chunky condiments will make the pizza base soggy – so steer clear of those!
 
– As you compile your pizza masterpiece, be sure to pay close attention to the number of toppings. An excess of ingredients will cause an unpleasant texture as the crust gets too soft and burnt. For the best results, cover it with just enough topping to enhance its flavour without weighing it down too much.
 
– Ensuring your pizza is on the top rack of the oven will guarantee its maximum exposure to heat, resulting in an optimal crisp.
 
With the right technique and a dash of patience, you can easily achieve a delectable crispy crust whenever you crave some delicious pepperoni pizza. Master this skill once and for all to enjoy mouth-watering meals every time.
What's the best way to reheat leftover pepperoni pizza slices?
Are you looking to warm up your extra pepperoni pizza slices and make a delicious snack? Then, it's important to remember that the microwave should be avoided in this case! This is because applying heat through microwaves can easily turn your slice of pizza into an unpleasant mess. Not something we want.
To get that perfect combination of crispiness and gooeyness in your pizza slices, you'll want to reheat them using a cast iron skillet or similar. Here's what you have to do:
– Set your stovetop to medium heat and place a cast iron skillet on top. To prevent sticking, drizzle the pan with oil before adding ingredients.
 
– Once the oil is sizzling, slide your pepperoni pizza slices into the skillet for a delicious treat.
 
– To ensure that the cheese melts evenly, cover the skillet with a lid or aluminium foil to keep it in heat.
 
– Bake the pizza for approximately three to four minutes, until the cheese is completely melted and the crust is golden brown and crunchy.
 
And there it is. Your pizza is ready to be devoured. For an exquisite experience with every bite, reheat the pepperoni slices in a skillet rather than popping them into a microwave oven; this will ensure that the texture and flavour of the crust remain intact while adding an extra layer of crispness and taste with some oil drizzled on top.
Conclusion
In conclusion, a homemade pepperoni pizza is an iconic recipe that deliciously unites salty and savoury with cheesy components. With only a handful of ingredients, you can create your own unique take on this Italian staple in no time at all!