What Wine Goes with Pizza? (A Detailed Answer)
Hosting a pizza night soon?
If so, it might be time to start thinking of the best things to serve with your pie, whether you made it yourself or ordered it from your favourite restaurant.
And when looking for the perfect drink to pair with pizza, you can't go wrong with wine. But since there are so many pizza flavours and even more types of wine, finding the best pairing for your pizza is a pretty tough task.
But we're here to help.
Below, we're looking at whether or not wine goes with pizza and some great wine and pizza pairings you can prepare for your next pizza party.
Read on to learn more!
Does Wine Go with Pizza?
Wine is one of the best alcoholic drinks you can pair with pizza! When you choose the right wine to pair with your pizza, it perfectly complements all the pizza's rich and cheezy flavours.
The best course of action is to stick to the more reasonably priced end of the shelf if you intend to serve wine with pizza. You shouldn't spend more money on wine than you would on pizza. Also, there are several excellent inexpensive wines that would go great with pizza.
But, when it comes to pizza and wine, there is no perfect combination. It is advisable to consider the flavours of your pizza and choose wines that would enhance them when picking a suitable wine to pair with your pizza.
We've compiled a ton of delicious wine and pizza matches for your next dinner party to make it easy for you.
The Best Pizza and Wine Pairings for Your Next Dinner Party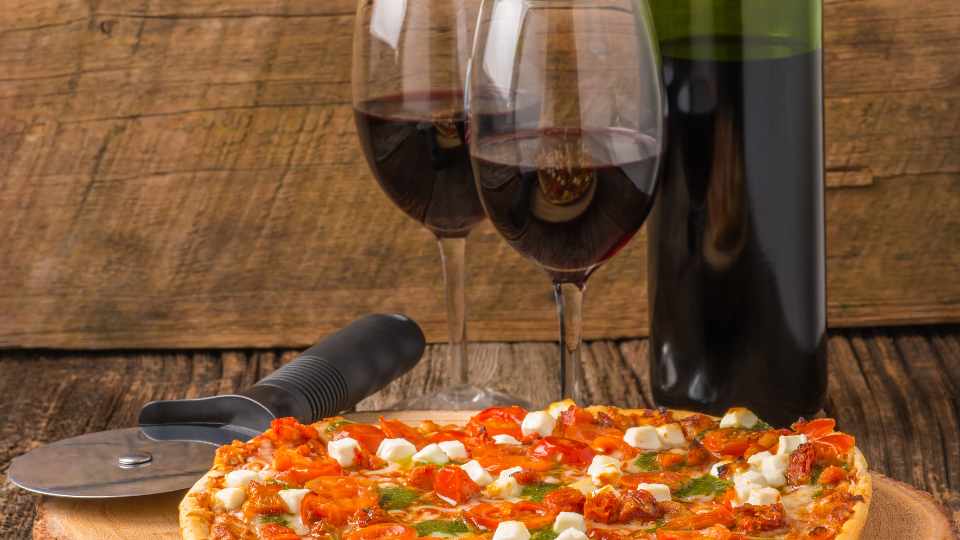 Wine and pizza have been around for centuries. This is why there are so many possible combinations and pairings that you can try. But if you're looking for a good place to start, here are some of our favourite wine and pizza partnerships that would be perfect for your next dinner party!
Pepperoni and Meat Pizzas and Fruity Red Wine
When feeding a large group, cheesy pepperoni and beef pizzas are a popular option. These pizzas are not only delicious but also quite full. You may be confident that after dinner is served, every one of your guests will be satisfied.
To contrast the salty and rich flavours of the meat, you'll need a decent wine. As a result, we strongly advocate matching meat pizzas with fruity red wines such as Syrah, Shiraz, or Zinfandel.
The savoury flavours of the meat pizza are promptly balanced by these wines. When you pair your pepperoni and meat pizzas with a fruity and sweet red wine, you produce a fantastic flavour combination that all of your visitors will enjoy.
Cheese Pizzas and Acidic Red Wine
Cheese pizzas have stood the test of time. Cheese pizzas are always a hit since the salty cheese complements the tangy tomato sauce so well. But, a GSM would be ideal if you want to contrast and balance the cheese's buttery and salty flavours.
This is because the high acidity of GSM wines is a great complement to fatty cheese. All of your visitors will have a more nuanced and flavorful experience because of the smokiness and floral undertones found in most GSMs.
Margherite and Hawaiian Pizzas with Rosé
The fruity, acidic, and sweet flavours of Margherite and Hawaiian pizzas are well-loved worldwide. Even if Margherite is one of the most classic flavours and Hawaiian pizzas often draw controversy, both of these flavours pair well with a nice glass of rosé.
Rosé is known for its crisp and distinct flavours. That said, this type of wine is also a bit lighter and less intense than red or white wine. This is why it's a great pairing for the complex flavour combination of a Hawaiian pizza.
On the flip side, Rosé works great for Margherite because both of them offer simpler flavours. This makes it great for a later afternoon gathering where you and your friends are all chilling out and eating while the sun starts to set.
Sausage Pizzas and Dry Wine
If you want a hearty pizza for your guests, sausage pizza is a great choice. And since these pies have very savoury, greasy, and salty flavours, you're going to want a dry wine to pair with it.
When choosing wine and pizza pairings, your ultimate goal should always be balancing out the flavours. Sausage pizzas are very rich, so if you pair it with a wine that's just as rich, you risk overwhelming everyone's palettes.
That said, if you get a bold wine with dry flavours, you'll find that it pairs with a sausage pizza very well. While dry wines can be quite bold and intense, they have different flavours than the sausage on your pizza, making for a good contrast.
Extra Meaty Pizzas with Sweet Wine
If you have extra meaty pizzas that are very rich, you don't want to pair that with a dry wine. Instead, you need something to temper the savoury and salty flavours, which is why we recommend a sweet red wine like a Chianti or Sangiovese.
Meditteranean Pizzas with White Wine
If you're making a lighter pizza inspired by Mediterranean flavours like spinach, artichoke, or feta, the best pair is a good white wine. This is because the dry flavours of the white wine contrast with the acidic taste of the Mediterranean pizza. And if you're not a fan of the dry flavours of white wine, you can also use a sweet white wine and it will pair just as well with a Mediterranean pizza.
FAQs
How Do I Choose the Best Wine to Serve with Pizza?
It might be difficult and delicate to select the ideal wine to pair with pizza. You should take the time to think about all the flavours in your pie and look for wines that can either contrast or complement those flavours. It ultimately comes down to personal preference. Nonetheless, if you're searching for a starting point, you might want to take into account our suggested wine and pizza matches above.
What Other Drinks Can I Serve with Pizza?
Pizza may go well with a beer in addition to wine. Pizza's savoury and salty flavours pair perfectly with the beer's hoppy flavours. Nevertheless, beer may also be heavy, so if you serve beer with pizza, your visitors might end up being overstuffed. Soda is a terrific way to wash down the salt and oil from an excellent pizza and is another non-alcoholic option.
Conclusion
Hosting pizza evenings and dinner parties may be a lot of fun. Also, you should serve wine along with your pizza if you want to improve your guests' overall experience.
Make sure to serve the appropriate wine with your pizza, though, for the ideal dining experience. Therefore feel free to experiment with any of the below combinations. And if you want to explore outside the box, don't be afraid to try out various pairings that you think would be successful!