The Heavy Duty Milano Commercial Pizza Oven is a robust commercial pizza oven capable of high output and profound quality. This pizza-oven is well suited for high end quality making it a great addition for restaurant owners and pizza-shops. Not only is it amazing for pizzas, the Heavy Duty Milano Commercial Pizza-Oven can cook an array of different types of food. Use it as a BBQ to cook meat and skewers or bake cookies for your guests to get the most out of your pizza oven.
Made from sturdy stainless steel materials, this oven is durable and looks sleek in any kitchen. It offers convenience with a front view window keeping you in full control of cooking. The temperature gauge positioned on the front window allows you to keep an eye on your food and ensure that your pizza is cooked to perfection every single time.
Additional storage space is abundant with this oven and is fitted with two foldable stainless steel side shelves and one pull out drawer underneath. The oven makes cooking easy with heat resistant handles and the front view window. The Heavy Duty Milano Commercial Pizza-Oven works using an electronic impulse ignition and so is easy to light. Bake exquisite pizzas full of flavor thanks to the woodchip smoker box inside the oven, giving you rich and smoky flavours customers will crave.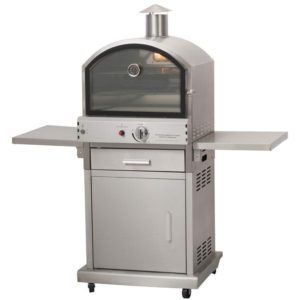 The Heavy Duty Milano Commercial Pizza-Oven can handle high demands because of its two shelves. One cooking area is 490mm x 430mm and the lower cooking area is 500mm x 440mm. This is perfect for keeping up with the high output needed at a restaurant and for commercial use. The oven itself comes with three baking racks to ensure you can keep on cooking.
The stainless steel burner works at 5kw of power for speedy and precise cooking. The base of the oven is made of food safe pizza-stone and measures 465mm x 355mm. The stone base offers a rustic flavour and keeps the oven cooking at high temperatures. This oven is proficient at meeting high demands in a busy environment whilst looking stylish and compact for its large size.
Cleaning couldn't be easier as the shape of the oven allows you to get into the corners and harder to reach areas of the oven. Conveniently shaped to fit into bustling kitchens, the Heavy Duty Milano Commercial Pizza-Oven is on small wheels so can be manoeuvred easily if necessary.
Great alongside: