What is Italian 00 Flour? And How Do You Use It?
As a pizza enthusiast, I'm often asked about the ins and outs of making the best Neapolitan style pizza. Truth be told, an integral component of pizza is the crust. If you can master the crust of the pizza, you're halfway there! 
Another common question is, "What is 00 flour?" In short, it's an essential ingredient when making pizza dough. Also called doppio zero flour, you'll notice this ingredient is used in several Italian recipes, most commonly pizza dough and pasta. The "00" refers to how finely ground the flour is and, in this case, 00 is the most highly refined type of four. This makes it ideal when wanting to achieve an authentic Italian pizza. 
Be sure you use this type of flour as opposed to English flour. You'll notice it's easier to knead, and the end product is both thin and crispy! Today we'll cover why 00 flour is great for making pizza. Be sure to stay tuned for a 00 flour pizza dough recipe at the end! 
Keep in mind, that using 00 flour and following our very simple recipe will allow you to perfect your pizza crust no matter if you decide to bake it in a wood fired pizza oven or on a pizza stone in your kitchen oven at home!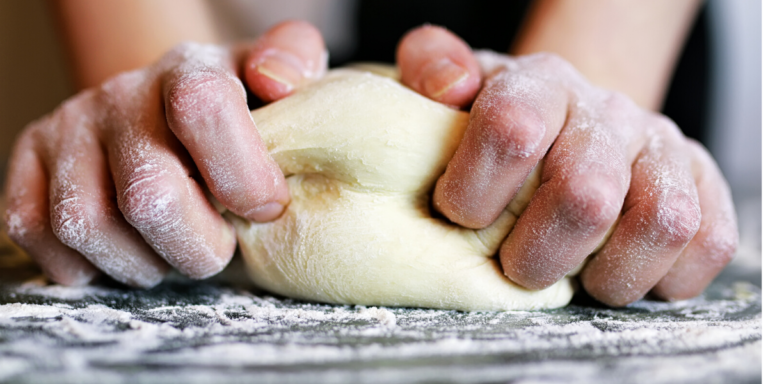 00 Flour is the Best for Making Pizza 
The secret for the best pizza crust is the flour used. Italian oo flour works so great for pizza dough because it's finely ground and has lower gluten content than most flours. This means your dough will be elastic and easier to knead. When baked, you'll notice a thin crispy crust with a tender bite.  
Follow this recipe for an authentic type Napoletana pizza crust! 
Prep Time: 10 minutes
Cook Time: 15 minutes
Total Time: 25 minutes
Ingredients 
– 500 grams of Caputo 00 Flour

– 250 ml water

– 1 ½ teaspoon sea salt (if using table salt use 1 ¼ tsp.)

– ½ teaspoon active dry yeast

– 2 tablespoons extra virgin olive oil 

– Pinch of sugar 
Instructions: 
Mix Up the Dough 
Begin by mixing the flour, salt, yeast, and sugar in a bowl. In a separate bowl, combine the olive oil and the water. To mix the dough, you can use a food processor, table mixer, or mix it by hand. Follow the instructions according to your preferred method. 
Food Processor: Mix all the dry ingredients and slowly add the oil and water. If the dough seems dry, add more water. Be sure you add a little at a time to avoid the dough from becoming runny. Pulse a few more times to mix well and roll the dough into a ball.
Table Mixer: Mix all ingredients together in a bowl and form a soft dough. Let it rest for 10 minutes and then knead for 5 minutes. 
By Hand: Mix all ingredients together until it forms a soft dough. Let rest for 10 minutes. Knead for 7-8 minutes or until smooth. 
Let Dough Rise 
After you've kneaded the dough, place it in a lightly oiled bowl and cover. Let it rise for 1 ½ to 2 hours. The dough should double in size. De-gas the dough by punching it. Then, divide into 3 equal-sized balls and place individually in a zip lock bag. Make sure the bag has been coated with non-stick spray or olive oil, preferably vegetable spray. 
Refrigerate Overnight 
Keep the dough in the refrigerator overnight. The next day you may freeze it or make a pizza. Prior to using the dough, make sure to let it warm to room temperature. This is a must!
Now you know the importance of 00 flour and how to create your own pizza dough. Make sure to use this type of flour going forward as it's integral to baking an authentic Italian pizza!