Pros
– Quad-Fuelled
– Portable
– Sleek Design
– 60 Second Cooking Time
– 20 Minute Heating Time
Cons
– High-Demand
– Moderate Price Tag
Uuni continues to outperform each version of their oven. Just when I thought the Uuni 3 was the best that Uuni could do, the Uuni Pro came along and proved everyone wrong. This larger and more diverse oven has helped pizza lovers foster their love of cooking homemade pizzas.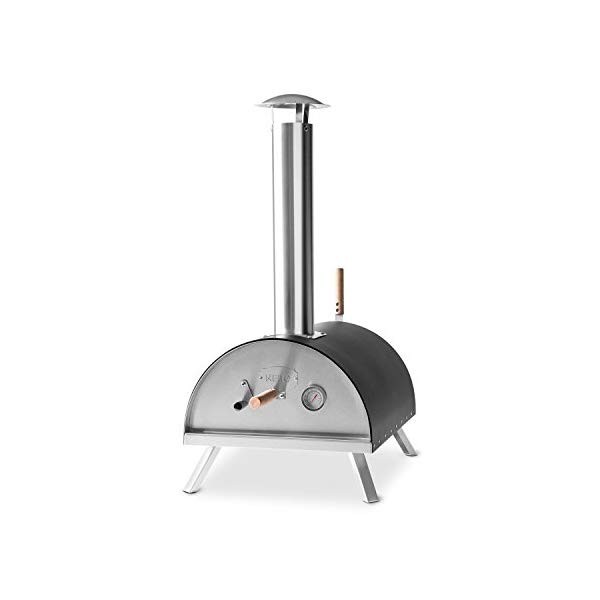 Pros
– Handy temperature control features
– Modern design
– Great price considering the thoughtful design
Cons
– Nothing – everything is covered!
Those who know me know nothing makes me happier than some homemade pizza. It's a meal ideal for any occasion – lunch, dinner party, late night snack – the list goes on and on.
In my hunt for the best pizza ovens available, I came across the BURNHARD Nero Stainless Steel Outdoor Pizza Oven. After reading several positive reviews, I decided to see what all the hype was about.
I quickly found that this outdoor pizza oven gives you crispy pizza in a matter of 5 minutes! So, without further ado, here are my thoughts regarding the BURNHARD Nero Pizza Oven.
Pros
– Huge Cooking Space
– 350 Degrees in 10 Minutes
– Easy to Move
– Fantastic Italian Quality Built
– Cook 18 Pizzas in 15 Minutes
Cons
– Premium Price
– Only Available in Yellow or Red
I consider myself something of a pizza enthusiast – as such, I've seen my fair share of pizza ovens. Believe me when I say that the Alfa Forno Allegro Outdoor Pizza Oven by Alfa Ovens is at the top of its class. It has a massive cooking space, is easy to move, heats quickly, and holds heat better than most conventional ovens.